As told by CREMA Co-Owner Rachel Lehman.
Tell us a little about you. How did you get into coffee?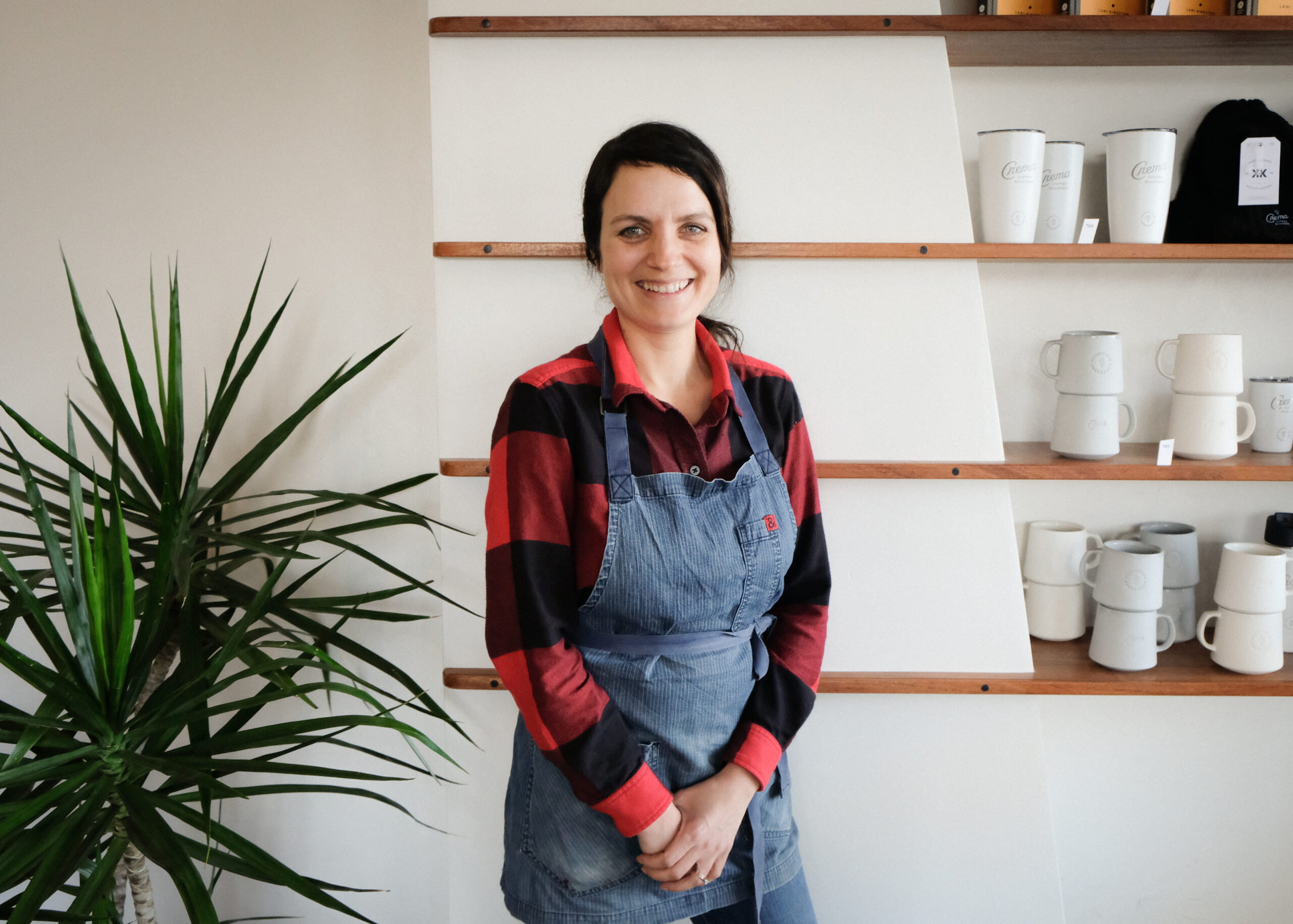 My love for coffee began when I was in college in Colorado working for a small family run roasting company called Village Roasters. They had been in business since the 1970's. I really loved our community of customers and the joy that coffee brings to people when they come into the shop. Coffee has this amazing way of bringing people of all backgrounds together. At that time in the early 2000's, latte art was just starting to make its appearance in local coffee shops, and brewing and extraction science was something the coffee world was beginning to understand. I continued to work in coffee once I moved to Nashville in 2003 and was able to manage a shop for close to 5 years. I was always interested in getting better and refining our quality, but back then the most interesting things happening in the coffee world were on the coasts. I taught myself about latte art by watching videos and finding better brewing recipes on the internet.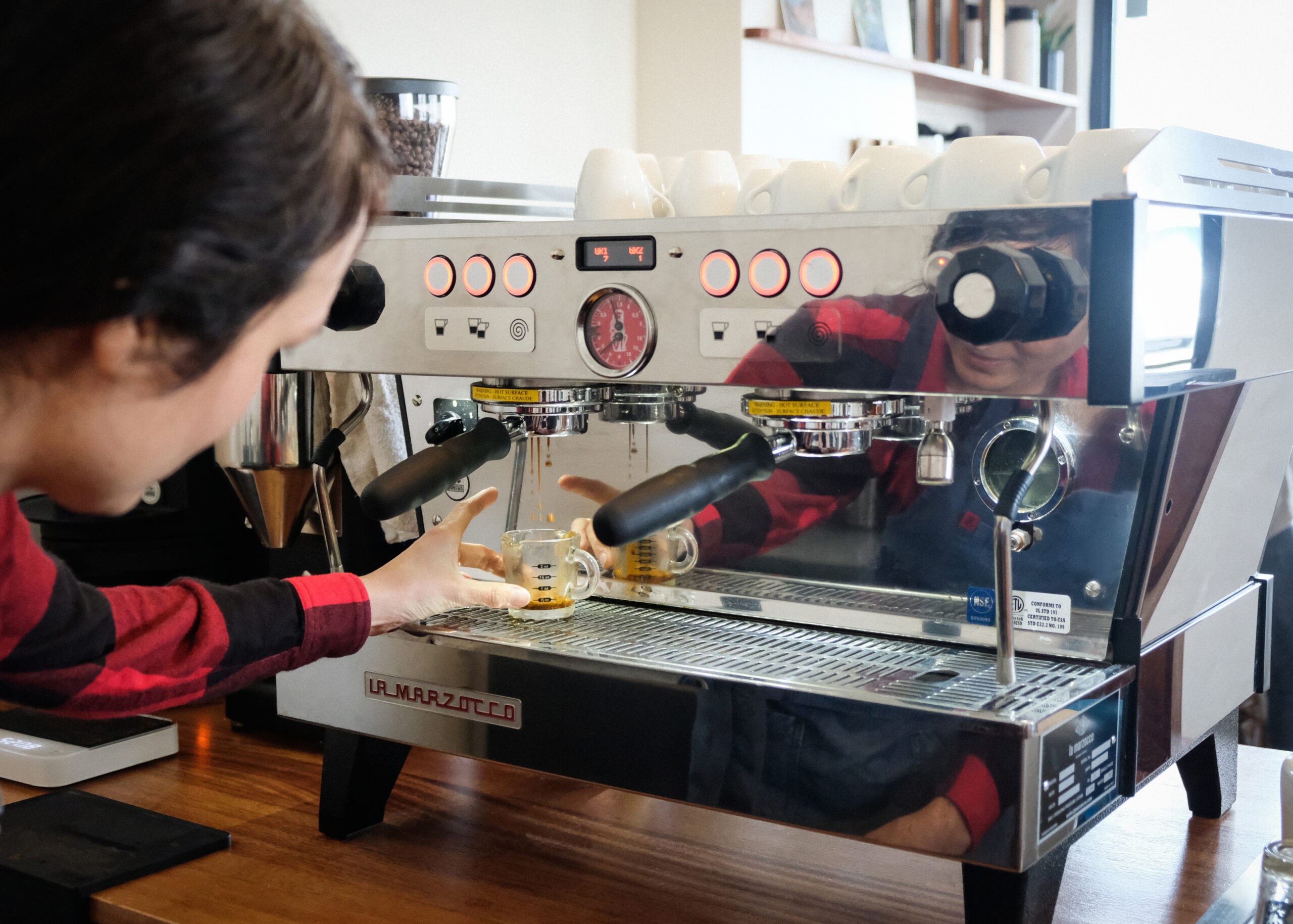 We founded CREMA in January of 2008, which later became CREMA Coffee Roasters after we started our roasting program in 2011. I learned most things by myself, but as much as possible, we would attend SCA events in search of developing a better barista training program and eventually, creating an excellent roasting program. Eventually our lead roaster Winston became a Q grader and he encouraged me to become one as well on my constant pursuit for excellence in coffee. I'm thankful to Jodi Dowell Wieser of Gather Coffee Company for being an amazing educator during the Q as well as giving us some insightful feedback for our roasting program. Coffee has afforded us the opportunity to create a company that promotes lifestyle balance through a positive work environment. I'm very grateful for each team member and their talents they bring to make Crema what it is. To this day, I still work on the floor and do everything from scrubbing toilets to working bar shifts and washing many dishes 🙂 I've not found a better way to stay in touch with our team and guests than to be directly involved in the work itself.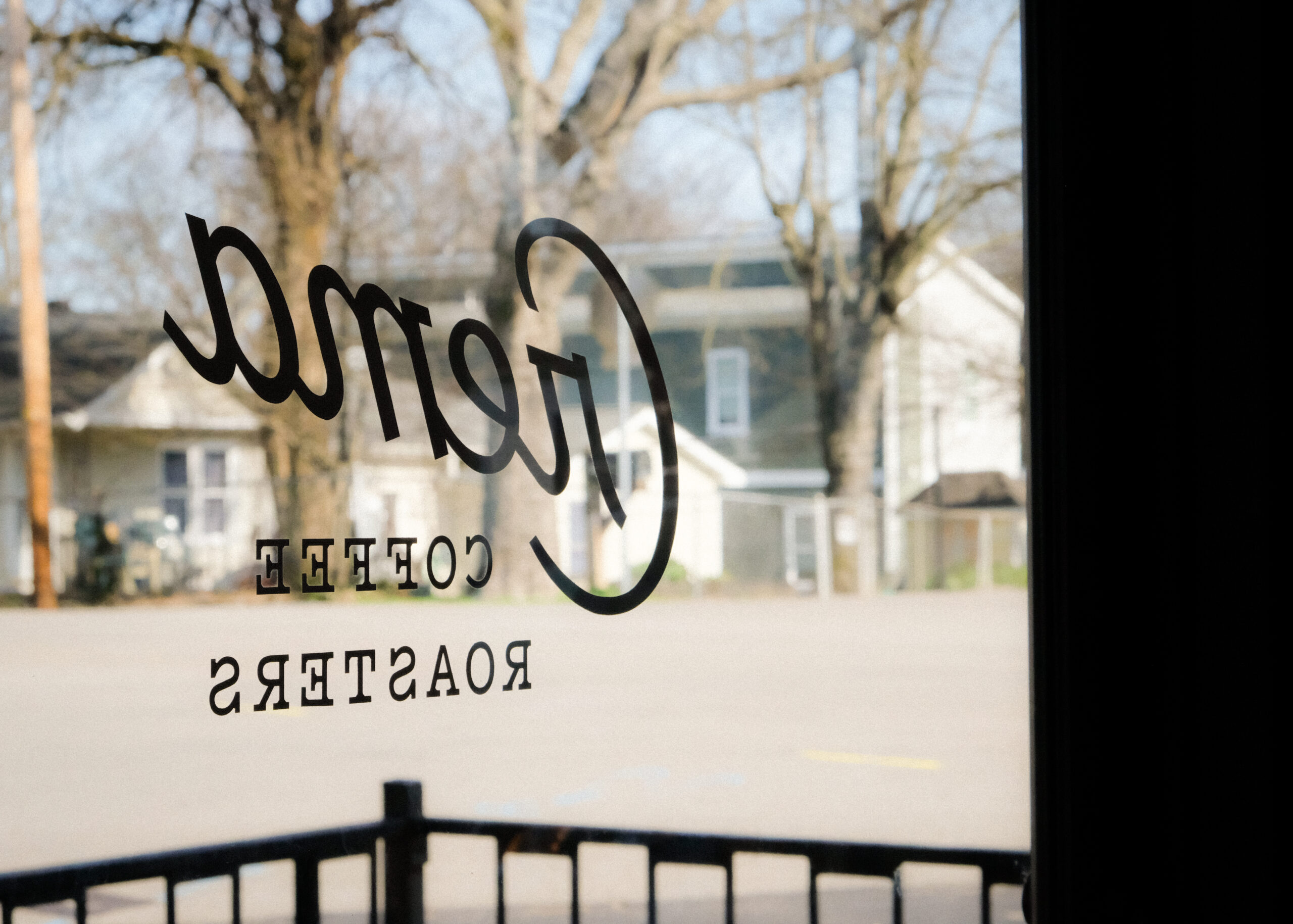 How would you describe your coffee program? What are you excited to bring to your customers in your space?
Our goal is to create exceptional coffee experiences that inspire. A large part of that is honoring the efforts of our producers; without that link between consumer and producer, it feels inauthentic or without purpose. We are excited to bring a variety of incredible coffees and coffee experiences to our market. One example is our public education events and classes in our newly remodeled and relaunched Coffee Education and Events Lab. We've seen significant growth and interest in all things coffee over the years and we are pleased to make what we offer and do more approachable. Our goal is to help people be successful in brewing great coffee and preparing great espresso at home. We want to take the mystery out of what we do behind the counter and share that with people in a kind and fun way!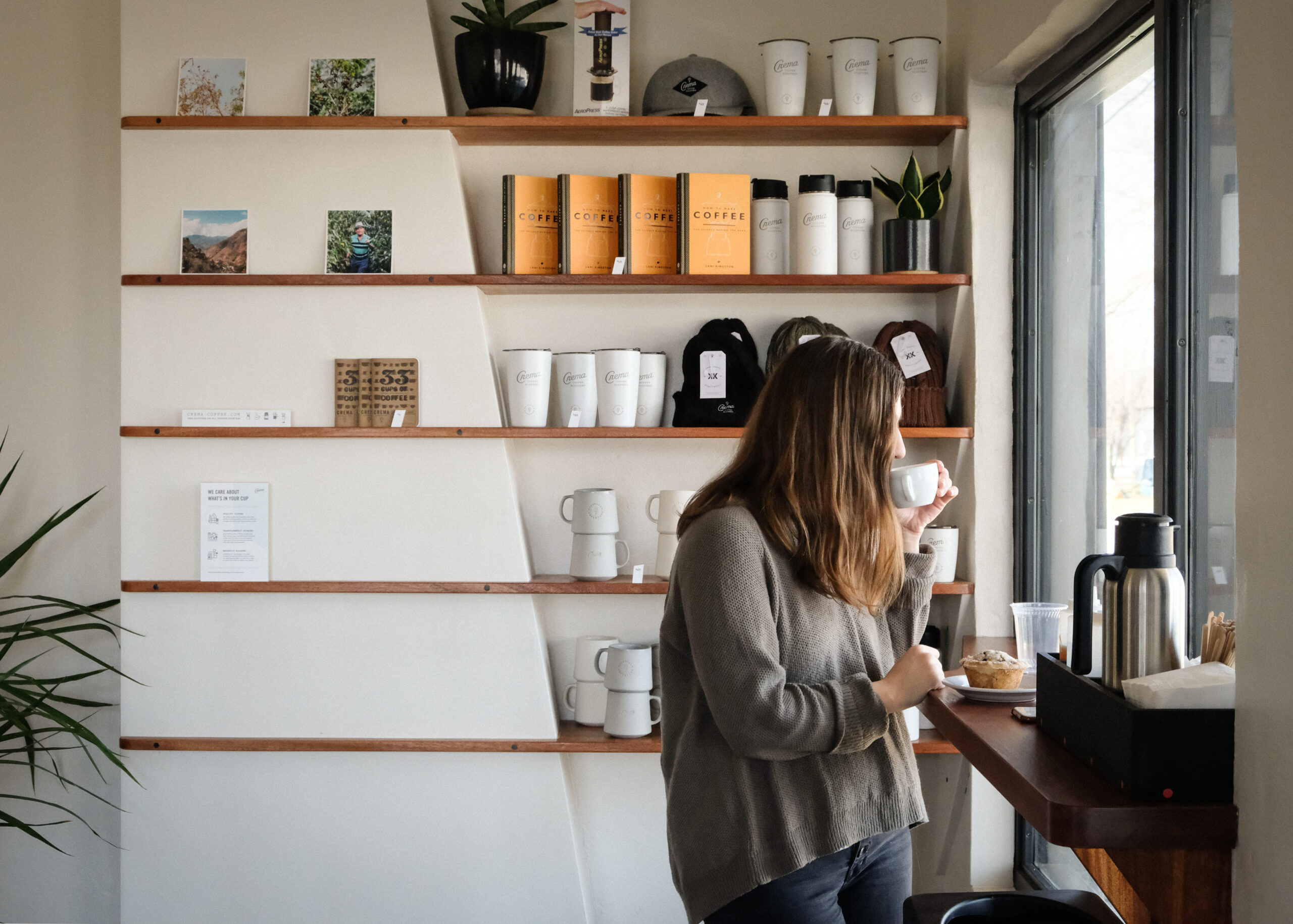 A lot of things might keep you up at night working in the coffee industry. What's top of mind for you right now?
Running a business, lol! Seriously, we care a lot about our team member's well-being (we have a defined well-being plan that includes such things as physical fitness to mental health benefits) and the daily ins-and-outs of personnel and team dynamics is what I care most about, so I tend to worry more about those things. Compared to 10 years ago a lot of things don't keep me up at night anymore, we're a mature company (factually, not pretentiously) and we don't sweat a lot of little things we once thought were so important. Learning yoga, meditation and other stress management techniques have been very helpful…for all of us!
But mostly politics 🙂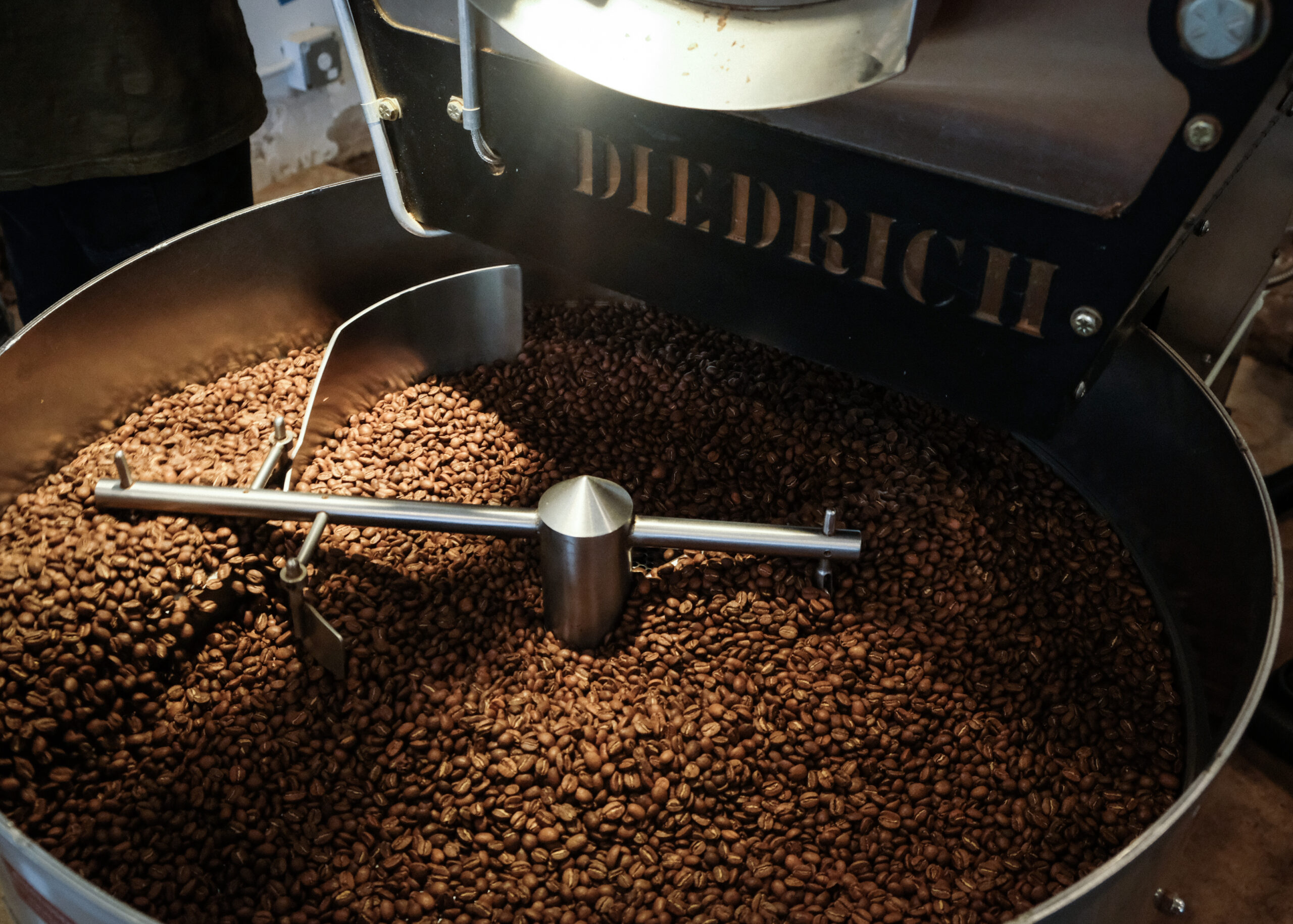 What equipment are you using to make coffee? Why did you choose this equipment?
Although I'm very interested in the trends in equipment, I'm very slow to adopt the latest and greatest of innovations. My goal is to create consistency across the company for training. We were one of the first to adopt the new Linea PB when it came out years ago. Our 3 group PB in our original shop as of a few months back surpassed 2 million shots with no major breakdowns or repairs — this says much about La Marzocco's ability to really perform in high volume. We love the precise volumetrics and temperature we can dial in on the machine. Of course we've tested our espresso with different grinders, different pump pressure, ratios, shot times, but keeping brew recipes simple and easy to dial in from day to day is best for our baristas and high volume shop.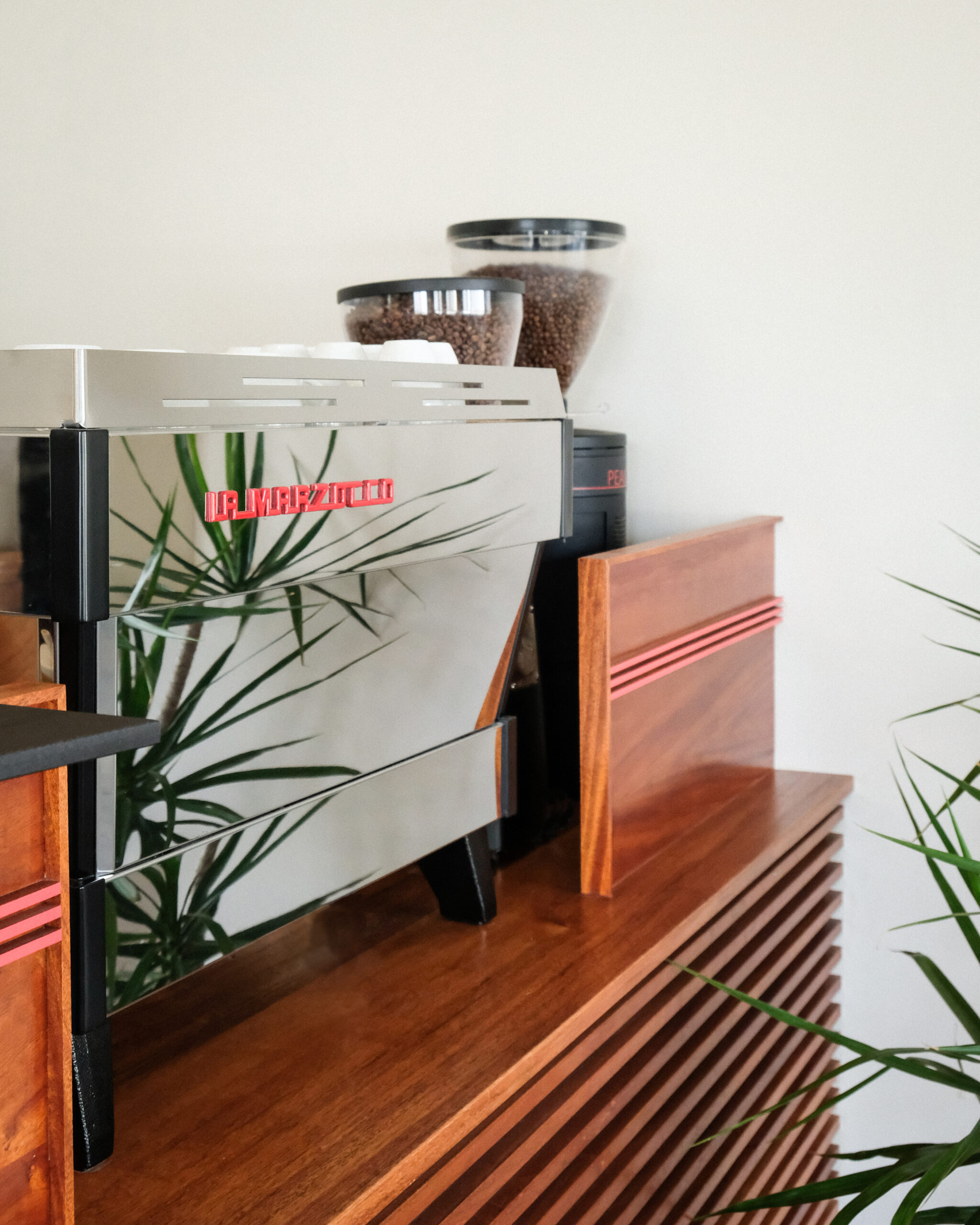 Our 3 group PB in our original shop as of a few months back surpassed 2 million shots with no major breakdowns or repairs; this says much about La Marzocco's ability to really perform in high volume.
We also use Puqpress, which I love for a few reasons: 1. Reducing barista injury; 2. Consistency of espresso extraction; and 3. Reducing waste. We were having complaints of tennis elbow and arm/shoulder strain from tamping. We are very high volume at our original location and needed to implement some changes in an effort to ease bar shifts for the team. We felt that the Puqpress was a no-brainer in helping us achieve that goal.
We also tested the Puqpress and found a more consistent extraction percentage from shot to shot no matter who was working on bar. This was helpful as level tamp and tamp pressure can be the first thing a barista throws out the window when it's slammed and you're 20 tickets deep in the line. We also have noticed that our shot times and consistency of hitting our target dial in recipe for espresso is a bit easier to achieve with that consistency of level tamp and pressure. It has changed our bar flow for the better. Our biggest piece of advice is clean that Puqpress piston in between every shot and let it do the rest.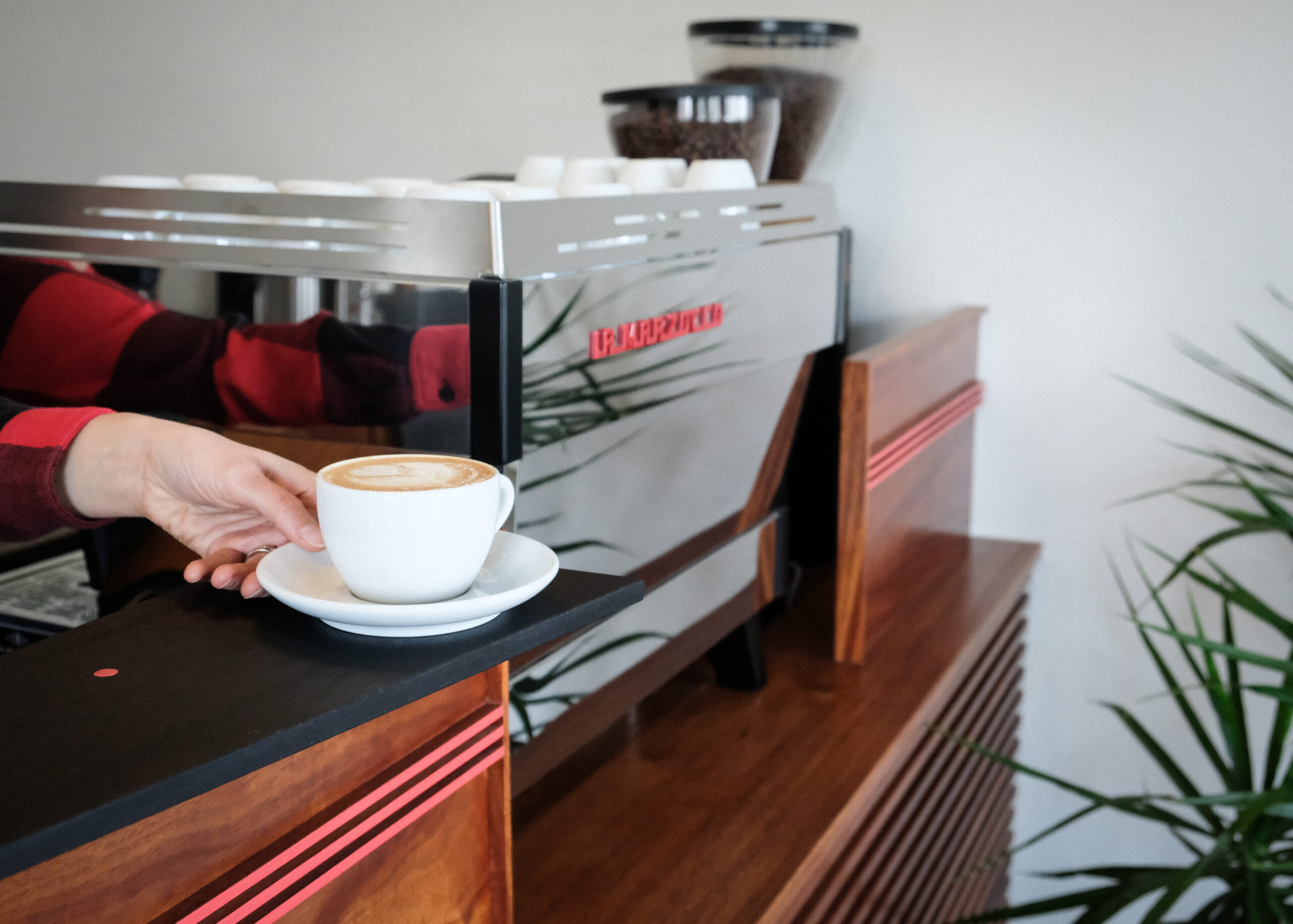 For our filter coffee we've chosen the Fetco XTS brewer with the addition of the aftermarket litmus brew head. We've chosen the EK 43 for our filter coffee and we dial in each coffee with a different setting and even ratio on our batch brew.
What kind of feeling were you looking to create with this space? Tell us about some of the decisions you made to achieve this.
We dreamed of that quaint, cozy neighborhood cafe that we've all been to and all hold the experience dear. We wanted to reverently reflect the story of the numerous others who have come before us on this varied street with its tiny working class homes scattered amidst the numerous new homes pushing gentrification on the neighborhood. The idea was to make use of a small unutilized portion of our roastery to create a takeaway cafe that artfully blended the 1930's era brick building and styling with minimal modern touches.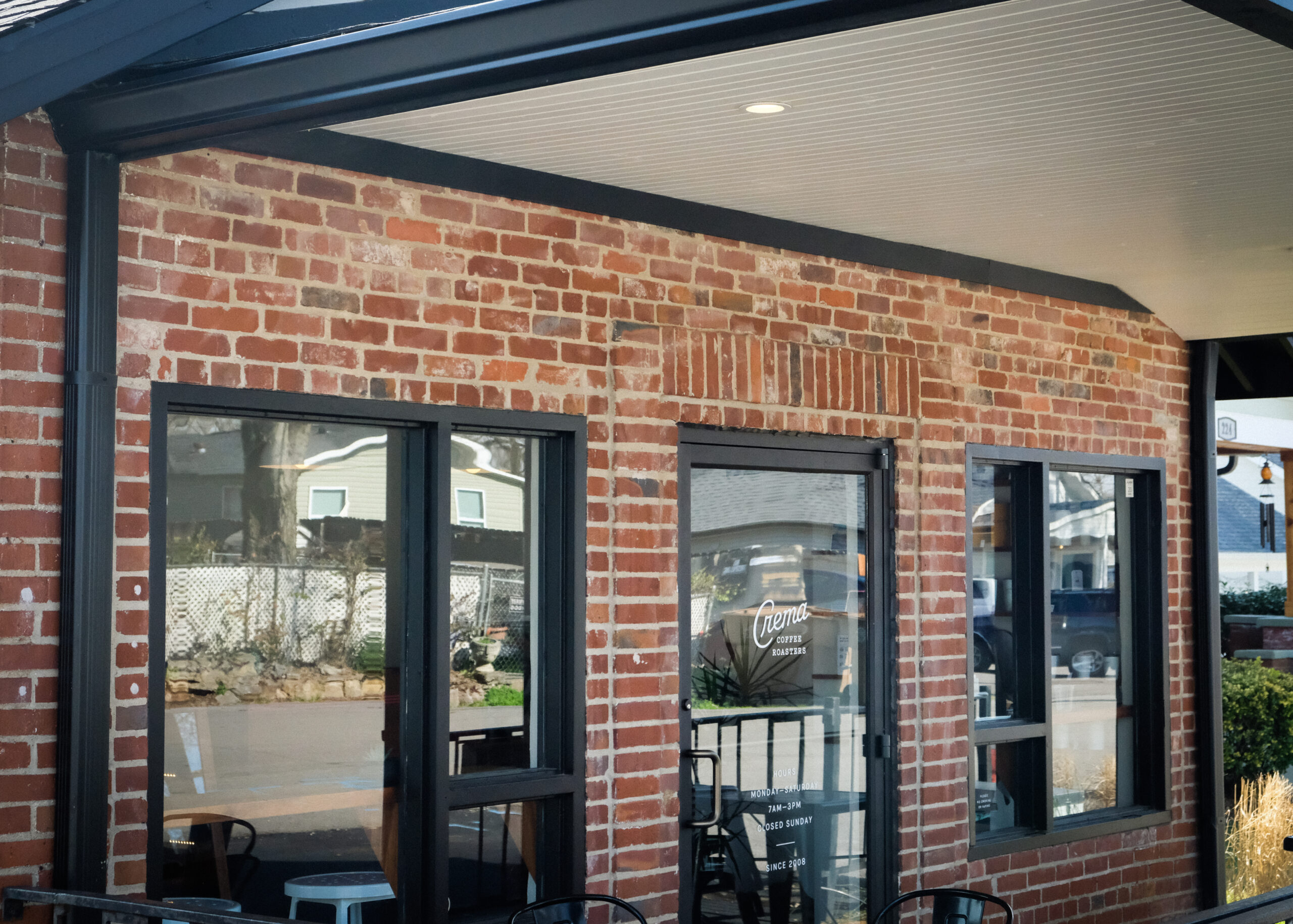 We worked with Aaron Rosburg, a friend and craftsman who helped envision and bring to life all the fine wood working at our original location. We intentionally used some elements of the downtown bar to create brand experience symmetry while selecting woods and finishes from the era with small angular touches of art deco. Rumor is there is a wing curvature hidden in the details as a nod to Ben's (Crema co-founder) affinity for flight.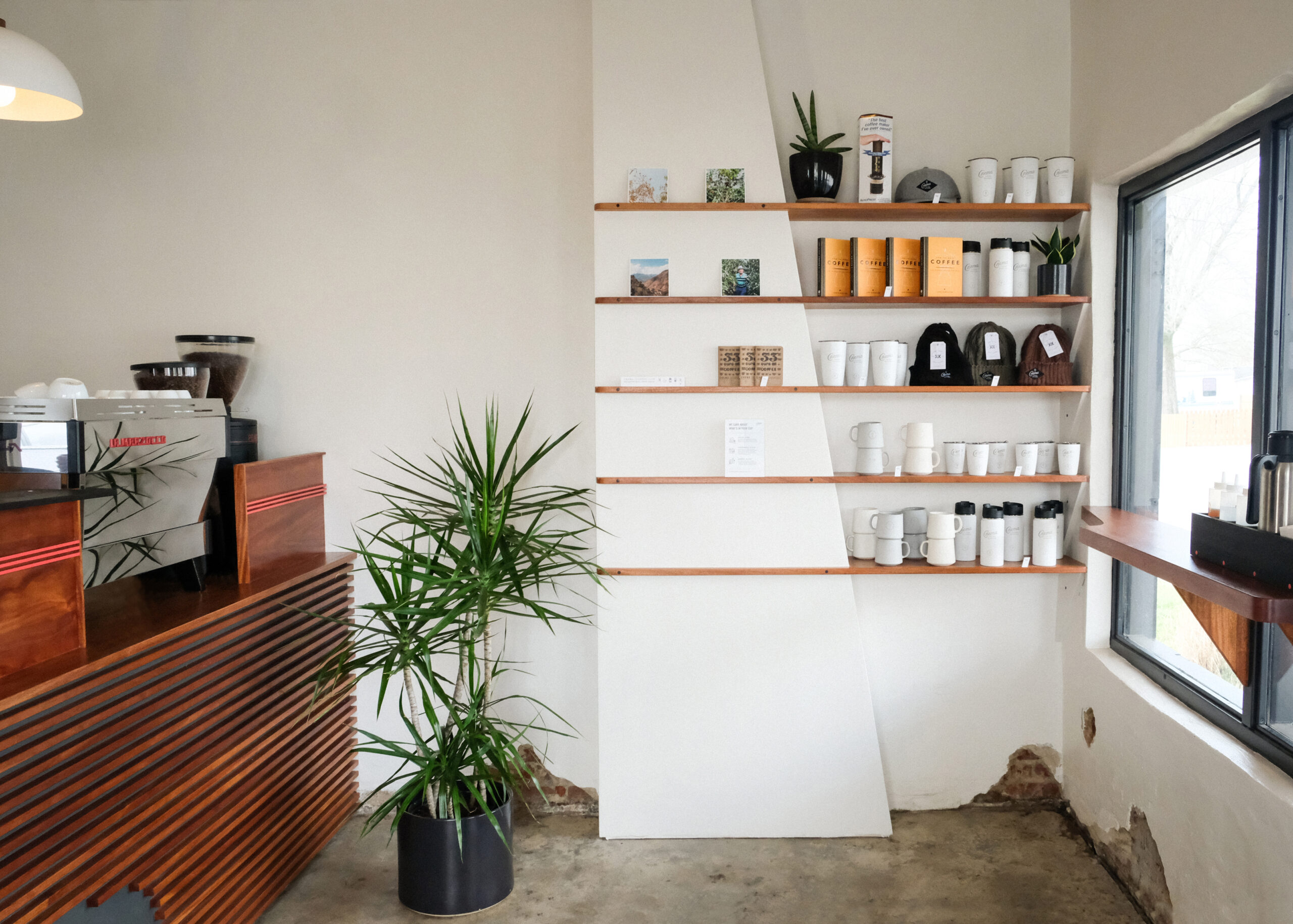 The last touches are a mural behind the bar, being prepared by our creative team, Ben Lehman / Matt Lehman / Nathan Brown, that will abstractly reflect the farming mountains of Costa Rica and a hanging sign on the corner of the building.
What's one thing you're proud of that you built into this space?
My husband and co-founder would be quick to quote John Ruskin:
"When we build, let us think that we build forever. Let it not be for present delight nor for present alone. Let it be such work as our descendants will thank us for;…"
I think we're both proud that we did our very best to respect the timeless character of our building. We are proud of the forethought, planning and self-effort that went into creating a space that maybe one day even our descendants will thank us for. When so many "stylistically insignificant" houses are being laid waste for bigger, better, "stronger" we are delighted that ours has found new life, new people to occupy it and love it while keeping its original nature.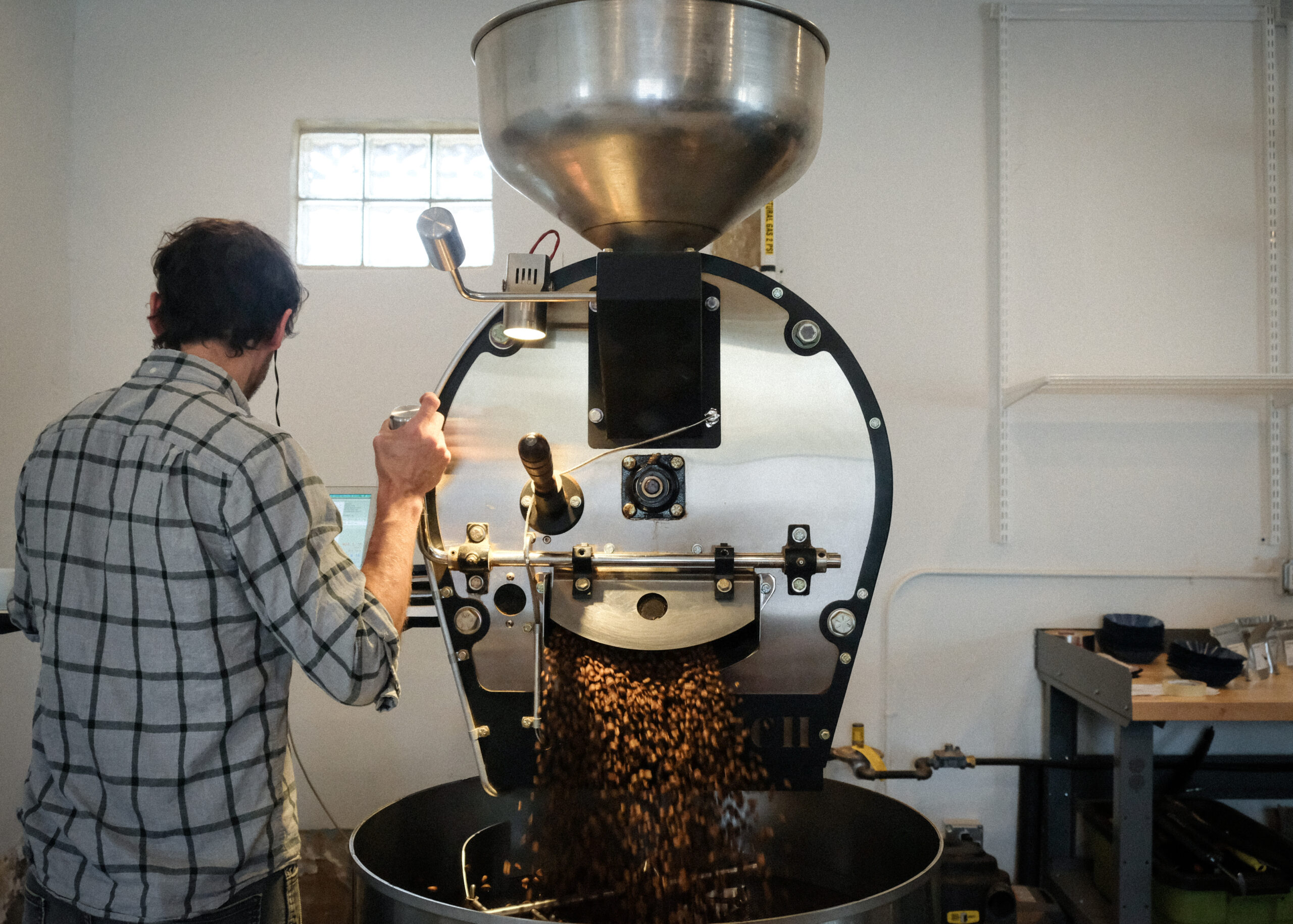 Speaking specifically, this go around we had a wealth of experience to inform our cafe and roastery design. There are so many minute logistical details that we planned into the cafe that we are very pleased with.
Some examples: we ran plumbing and electric for onsite washer and dryer so we save not only the carbon tonnage (we are a carbon neutral / negative company) of a pickup/dropoff laundry service but also the cost; second, a dedicated central location for water filters; third, it's the little things that will empty your pockets so we implemented a smart HVAC system design and point-of-use water heaters.
None of that is probably exciting, but as business owners we're proud of all the little lessons we applied to every aspect of our space.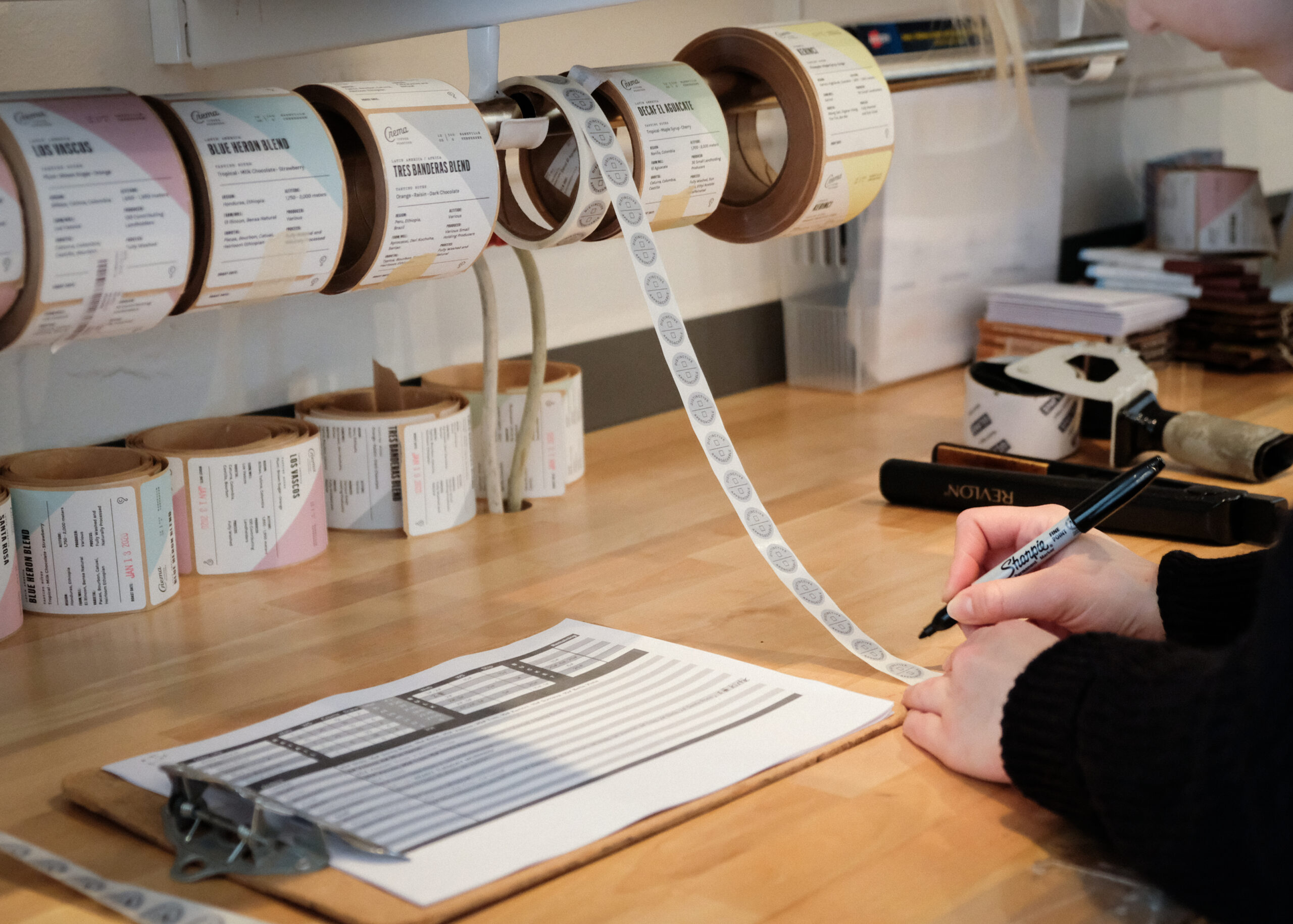 Follow CREMA Coffee Roasters on Instagram at @cremacrema.