Here is your specialty coffee party directory for Coffee Fest weekend (ok, it's not much of a "directly" as there's only two public parties going on but, hey, it's only Coffee Fest, not SCAA):
Coffee Fest Seattle Kick Off Party
Thursday, Oct 28, 6-10pm
Hotel Andra Ballroom
2000 4th Ave
Get your kicks at the uber trendy Hotel Andra with folks from Roast Magazine, Batdorf & Bronson, Espresso Supply, iSi, Monin, Theta Ridge, and Caffe D'Amore.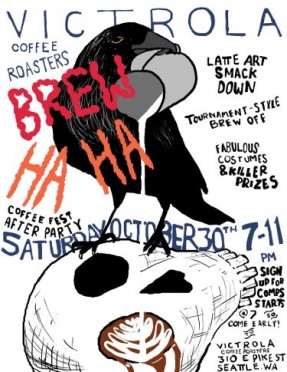 Victrola's Brew Ha Ha
Saturday, Oct 30, 7-11pm
Victrola Coffee Roasters
310 E. Pike
Costume party + latte art competition + manual brew competition. Espresso Parts is throwing in the prizes. La Marzocco USA is providing the espresso machine and the new Marco hot water towers. Killer music sets by DJ Shvr (alt ego Kliff at Visions Espresso) and Token Folk (whose Ifthen Loki's alt ego is Luke at LM USA). Undoubtedly, this is THE party this weekend. More party details here.
Download Token Folk's album for free here.
[UPDATED] The partimeisters at Sprudge.com has also made their own posting about the parties this weekend. Here are a couple more:
Trabant Presents TRAINWRECK
Friday, Oct 29, 8pm-?
Trabant
602 Second Ave
"Kegs, liquor, a taco bar, some throwdown shenanigans, costume contests, and epic groovy prizes supplied by the Trabant Consortium." Trabant-inspired 49th Parallel espresso blend, "Tunnel #20″ will also debut.
Sprudge.com Boozapalooza
Saturday, Oct 30, after Victrola's party
Six Arms
300 E. Pike
Celebrate Sprudge's one year anniversary with an afterparty down the street from Victrola.