Our team at the La Marzocco Cafe will be serving the incredibly tasty and creative coffee menu by Onyx Coffee Lab for just one more week! Filled with both comfort and adventurous drinks – in addition to a selection of single origin coffees and blends, the menu Onyx created for their residence has something for every coffee lover.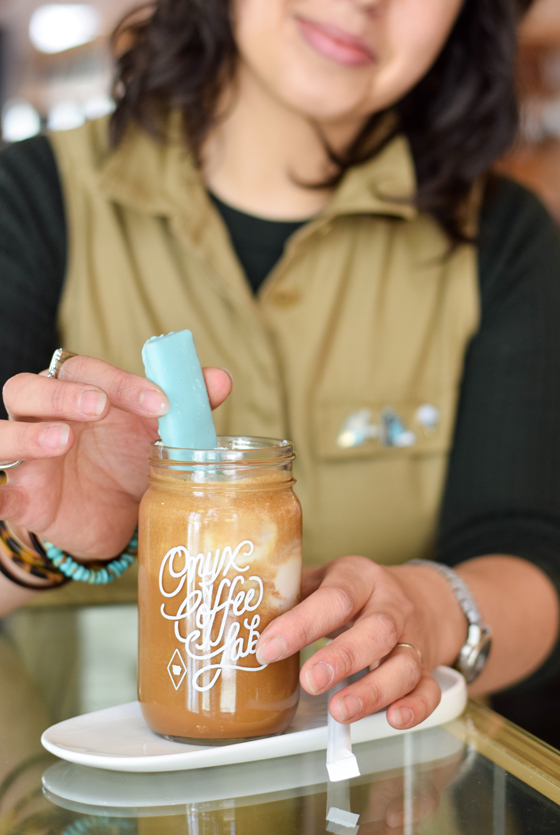 Each month, our residents are able to choose which espresso machine they would like to use. Onyx is our first Resident to use a complete espresso setup from our sister company, Modbar. Modbar's under-counter, sleek design allows for enhanced engagement between the cafe staff and guests. Onyx has used their residence as an opportunity to test their vision for a "finisher" station. As described by Lani Paschall, Experience Coordinator and Barista at the La Marzocco Cafe, this station "is envisioned to be the highest barista position, meant to be a final point of hospitality and engagement between the cafe team and their guests – this is where the final product is garnished, sweetened, presented and served. The low profile of the Modbar unit further enables engagement between host and guest – I'd go so far as to say that it requires it! This presents us with a unique challenge to step up our hospitality game. I love a hospitality challenge, so I quite enjoy the finishing station for this reason."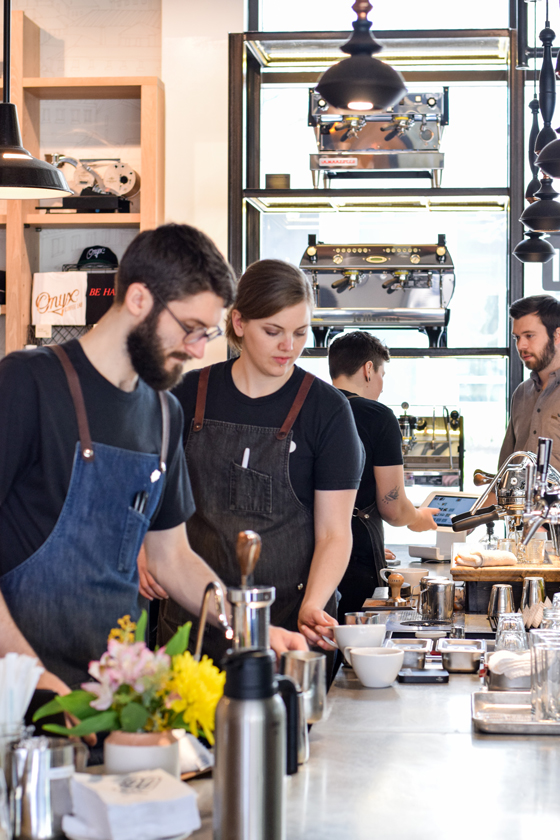 We love that Onyx has implemented this finisher station for their residence and that the Modbar equipment complements the goal of enhanced hospitality. Come check it out and see what you think before Onyx finishes up their residence next week. We'll be serving their menu through Monday, April 9.
We'd like to send our heartfelt thanks and appreciation to the entire team at Onyx Coffee Lab. We're especially grateful to owners Andrea and Jon Allen, as well as Dylan Siemens and Lance Hedrick for all their involvement in planning the residence, training our staff, and hosting classes for our guests in Seattle. We've loved serving your coffees and specialty drinks and our guests have very clearly enjoyed consuming them! From our team to yours – thank you!
We are beyond honored to announce that our final Year Two Roaster in Residence is George Howell Coffee from Boston, MA!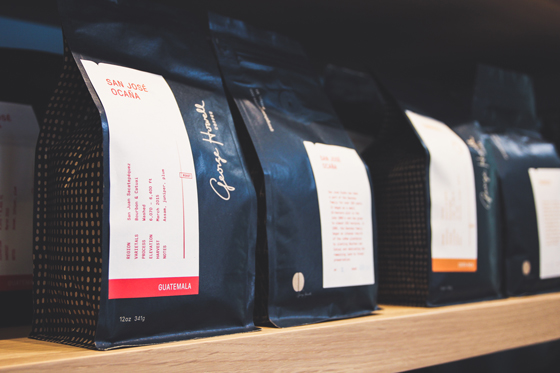 George Howell Coffee was founded in 2004 by veteran coffee pioneer George Howell. From the company: "George started George Howell Coffee with the focus and passion to identify, source and roast the highest quality coffees available. We carefully roast every bean to highlight the farmer's craftsmanship and the influence of each crop's region and climate or terroir. Our mission is to seek out the best coffees on Earth. We buy the finest regional and single farm-sourced coffees for coffee lovers who share in our quest for the ultimate cup!"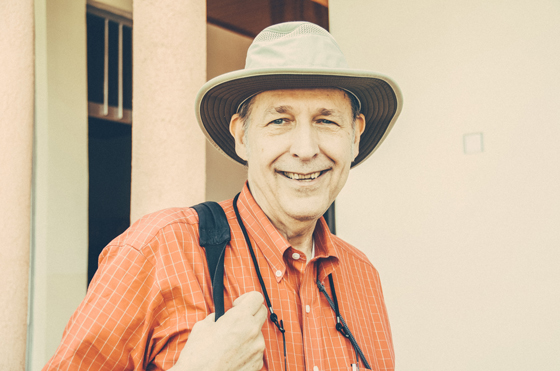 If there are legends in the specialty coffee world, George Howell is certainly one. Since the 1970's, he has traveled extensively to coffee producing farms, has worked to raise specialty coffee quality standards and economic sustainability for coffee farmers, has written for many food and beverage publications, and has guest lectured at prestigious universities. He has greatly influenced popular coffee culture as well, including his role in creating the Frappuccino™ back in the early nineties. To read Howell's full biography and contributions to the emergence and growth of specialty coffee, head here.
George Howell has been pioneering a way to keep top quality coffees tasting fresh much longer than their normal shelf-life. By freezing green coffees at the peak of their maturity, the natural aging process can be halted, allowing coffees to outlast their seasonality. Through this innovative process, coffees that were harvested months, even years ago, can taste like they just left the farm. We are thrilled that George Howell's menu will have some of these "vintage" coffees for our guests to experience during their residence including a Kenyan and an Ethiopian, both to be brewed via pour over. The menu will also feature a selection of signature drinks, including the Cloud 9 which has a fruity, sangria-like base steeped with San Antonio, Colombia coffee, and dolloped with Ethiopian honey whipped cream. Also on the menu, a coffee that has achieved near-mythological status – the La Esmeralda Gesha from Panama.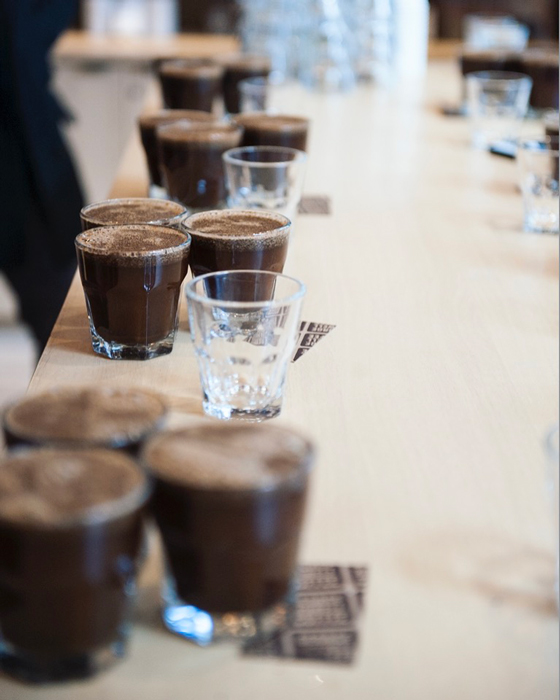 George Howell himself will be at the La Marzocco Cafe on Friday, April 20, hosting two events including a blind cupping of fresh crop versus previous years crops that have been preserved by freezing to showcase how they hold up over time. These events are free, but attendance will be limited. To see all events during George Howell's residence and to reserve your spot, head here.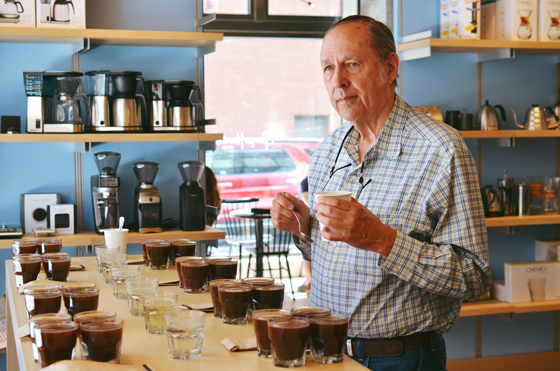 We'll be serving George Howell Coffee at the La Marzocco Cafe from Tuesday, April 10 through Monday, May 7.