We have had so much fun over the past month at the La Marzocco Cafe. It's the first time we as La Marzocco have created the entire residence – including the menu, signature drinks and service style. We set out to tell the history of espresso in Seattle – specifically La Marzocco's role in it and through our coffee chats, we've all ended up learning a little more.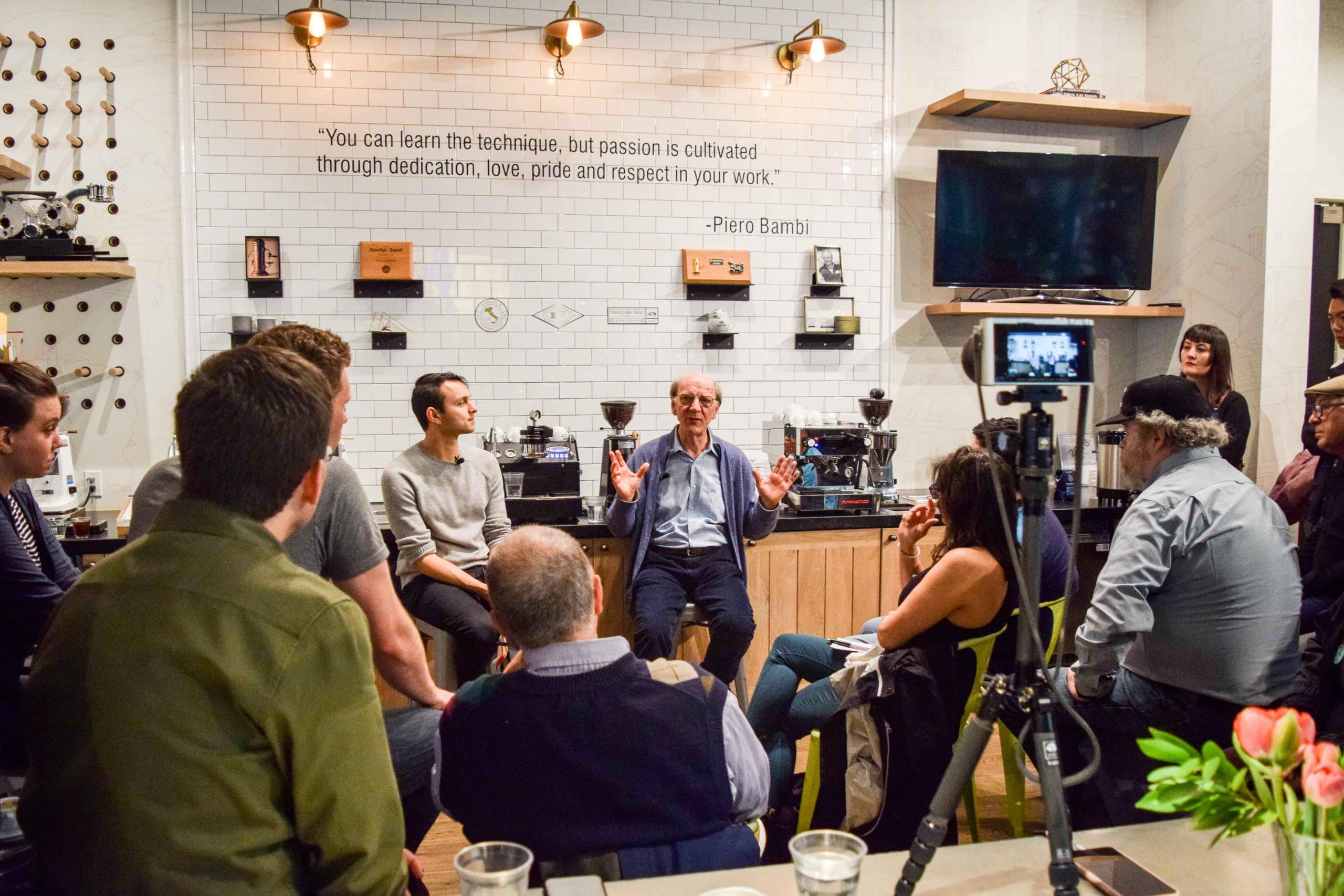 The Cafe team has adored using our brand new espresso machine, the KB90, which we've had on bar all month. One of our baristas, Brandon Turnbull, had this to say about using the KB90: "Everything felt so natural on the KB90. It all just flowed, a conversation that led to a drink that led back to a conversation, rinse and repeat."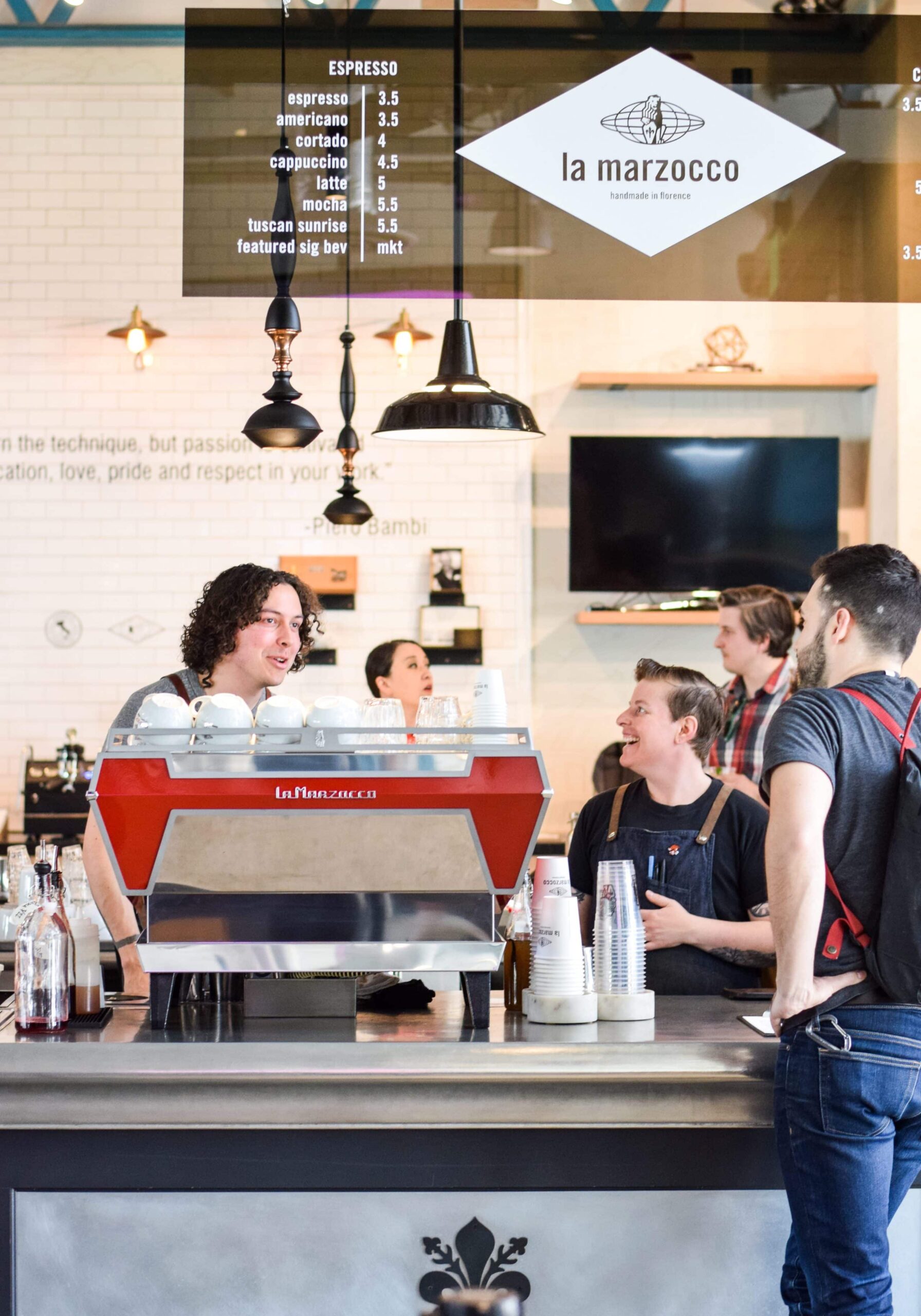 Finally, it's been such an honor to highlight several different coffee roasters that we love from around the Pacific Northwest. We've had four on our menu and have highlighted others during our weekly Friday Tastings. Special thanks to Bluebeard Coffee, Coava Coffee, Dorothea Coffee, and Elm Coffee for working with us to fill our menu, as well as Stamp Act Coffee, Ladro Coffee and Lighthouse Coffee for being a part of our Friday Tastings.
We have two more events during our residence that are not to miss:
Guest Barista: Sam Spillman – Thursday, April 25, 10 AM – 2 PM
2019 United States Barista Champion Sam Spillman will be here at the Cafe serving her competition signature drink, while supplies last. Guests will order, then head to our back bar to be seated then served personally by Sam! Sam lives in Seattle and visits us often – she is excited to be able to share her drink here with you.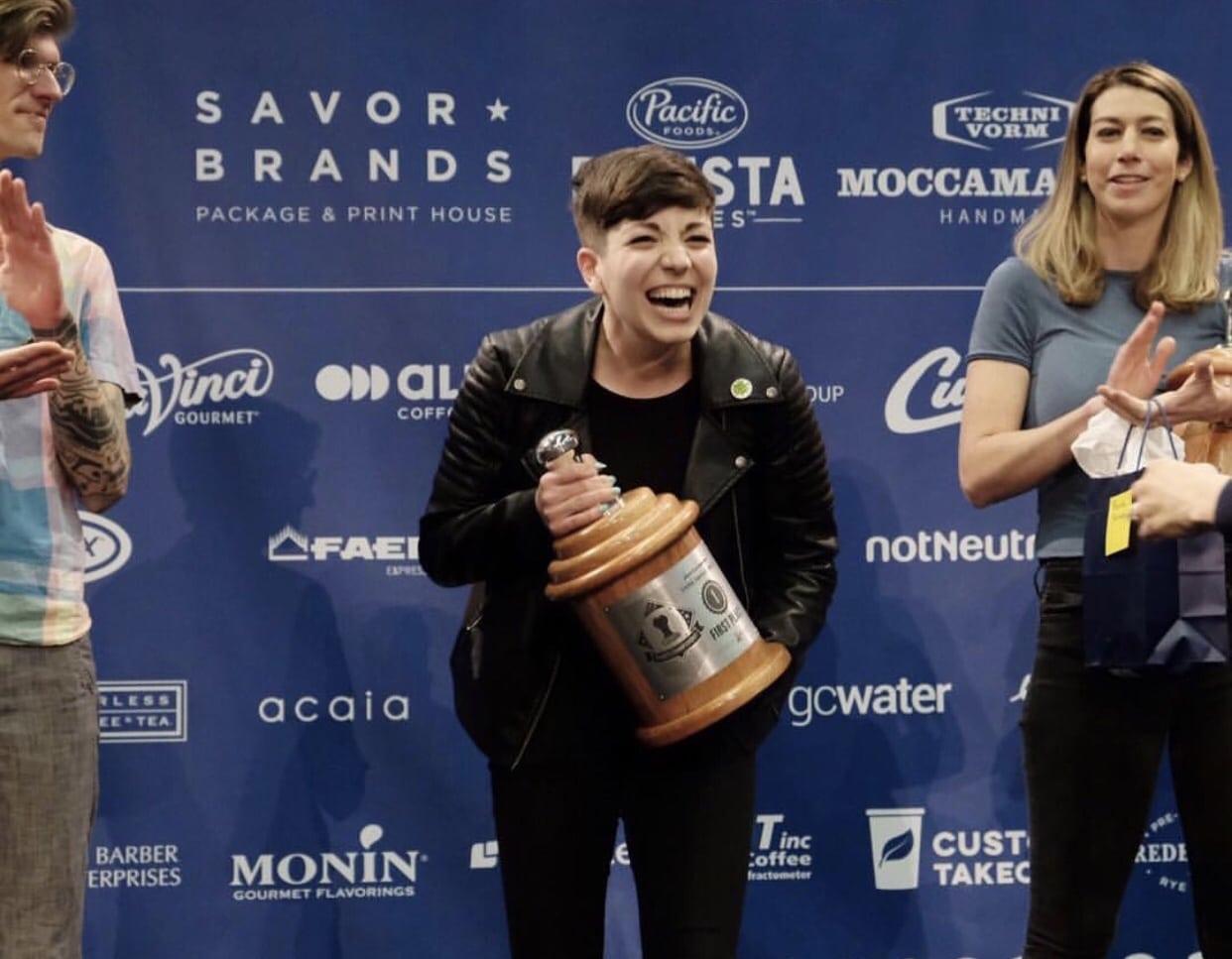 *photo courtesy of Sprudge
Coffee Chat with John Blackwell – Friday, April 26, 10 AM
During our residence, we've been telling the story of how La Marzocco came to have roots in the Pacific Northwest by hosting Coffee Chats with our Seattle Founders. For the final one, John Blackwell will sit down for an interview led by our VP of Marketing, Scott Callender.
More information about these events on our Facebook page.
We hope you've enjoyed the La Marzocco Residence as much as we've enjoyed sharing it with you. If you haven't been by, be sure to visit and check out our menu by Monday, April 29!
As we head into May, we're excited to welcome Metric Coffee from Chicago! They will be our Roaster in Residence beginning Tuesday, April 30 through Monday, June 3.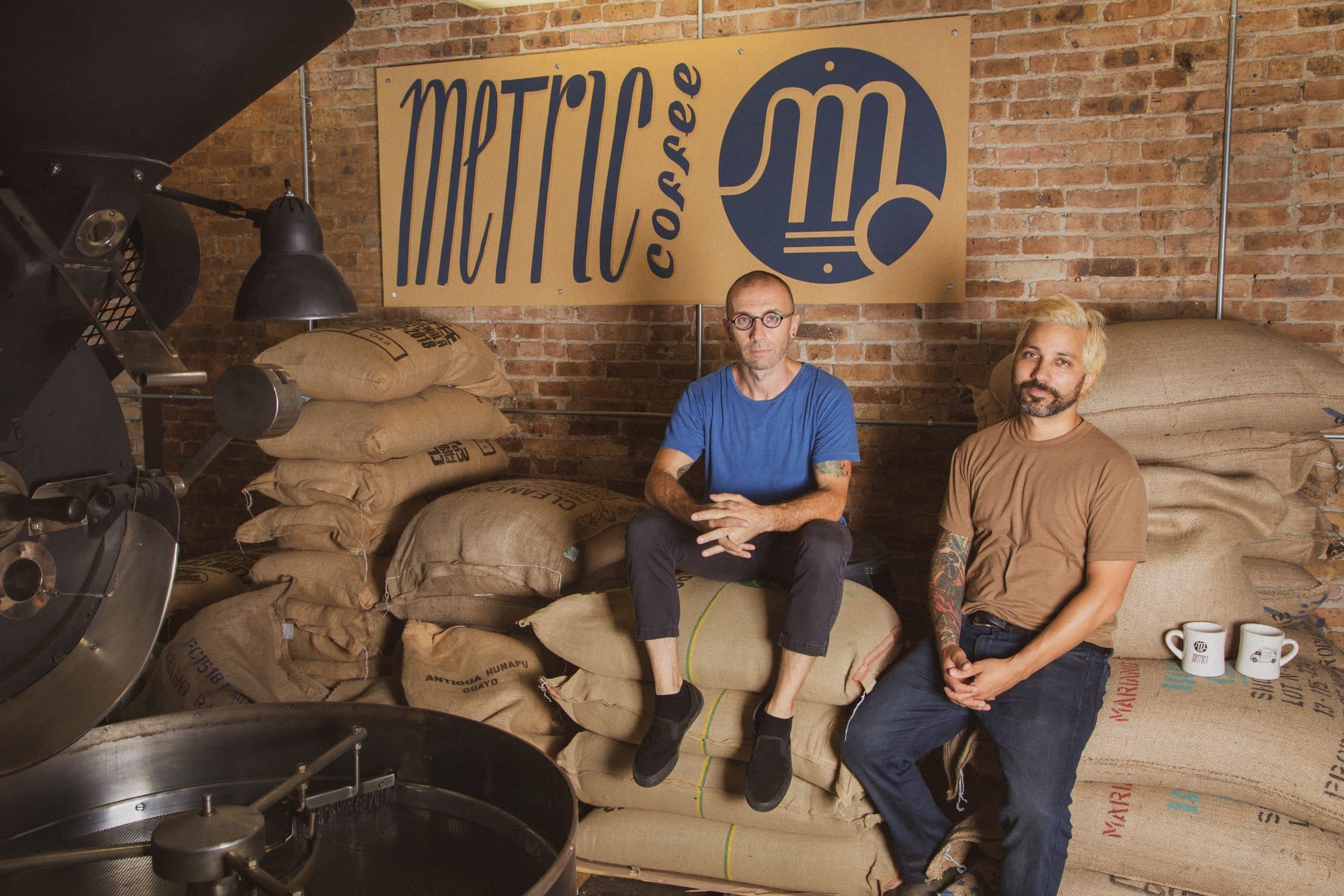 Metric Founders Darko Arandjelovic and Xavier Alexander met in 2012 and it was over tacos and beer that they chatted and became determined that with their backgrounds in roasting coffee for Chicago-based Intelligentsia and entrepreneurial cafes, they could turn their dreams of a coffee roastery into reality. With their homegrown innovation and determination, they acquired an antique roaster that they restored by hand!
From Metric, "The 1960s German Probat roaster, the beating heart of our business, came to us with nuts and bolts in Metric units. Refurbishing and customizing this machine from the ground up required us to make conversions and work within a different system from the familiar. Thus it seemed fitting to name our coffee company with the concept of Metric in mind."
The two circulated their coffee around Chicago to friends and other progressively minded Chicago food and beverage artists. Six years later, Metric has a small solid staff united by their common passion and a growing fleet of wholesale partners in addition to their cafe and training center. Metric is a relationship focused coffee company that invests in humans, both in Chicago as well as globally.
"Through coffee and hospitality we create memorable and approachable experiences that build meaningful ties connecting our global community." – Metric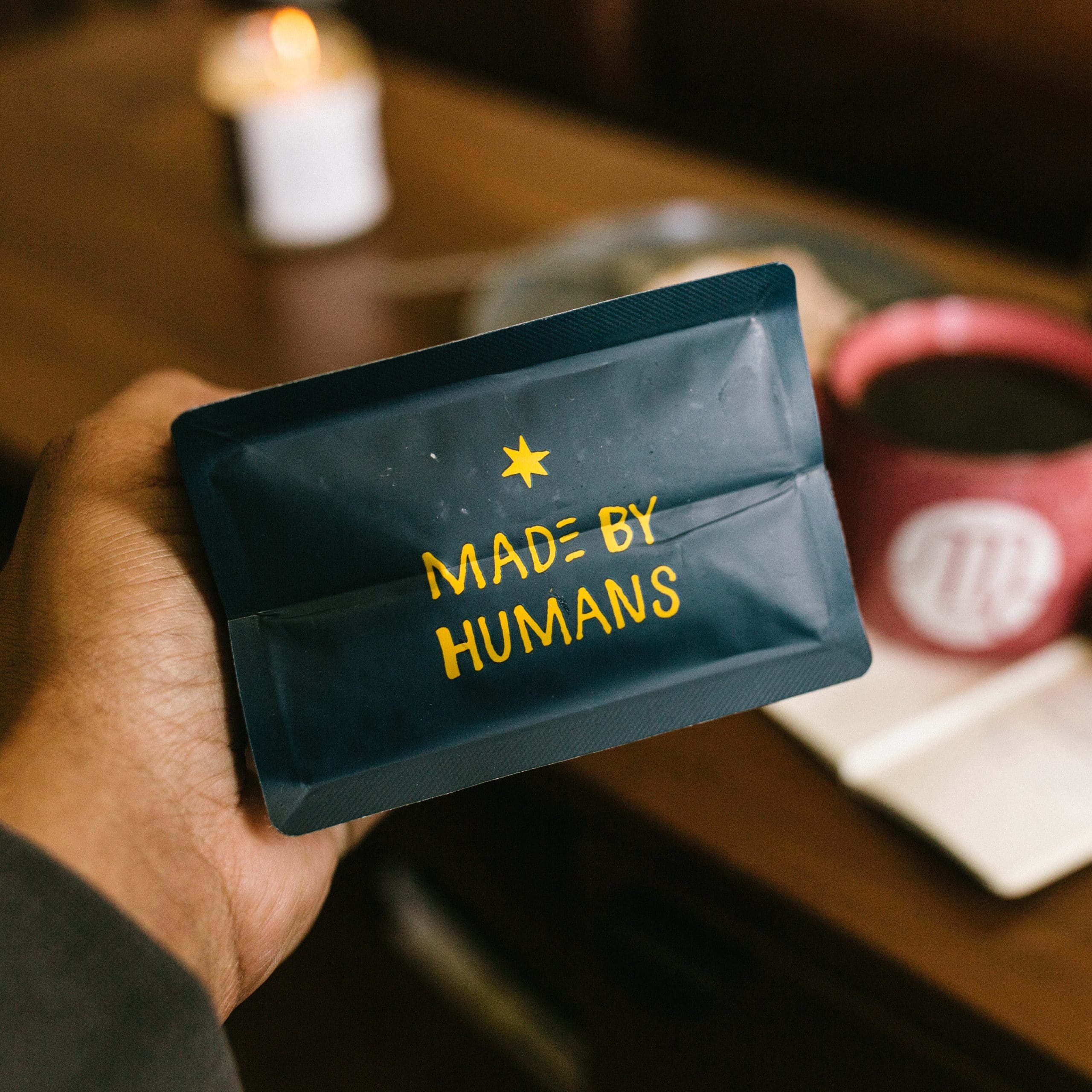 Menu Highlights
Espresso
Metric's Quantum Espresso Blend will be available throughout their residence. A carefully crafted blend, Quantum's dark chocolate and hazelnut profile shines through a light roast, yielding an approachable house espresso offering. All your favorite espresso and milk drinks will be made with Quantum. For a second espresso option, Metric will have a single origin coffee that will rotate weekly.
Filter Coffee
Using Kalita Pour Over to brew, Metric will offer two single origin coffees each week. First up will be their Honduras Alma Pineda, a coffee with notes of melon, red apple and cotton candy, and their Peru David Flores Lot 2, boasting flavors of plum, orange blossom and vanilla.
Specialty Drinks
Every week, Metric will debut a new and exciting specialty drink. The Green Line is up first – a refreshing matcha-based beverage with Spirit Tea Matcha, cascara syrup, sparkling water and a splash of lime. Served chilled alongside a two ounce pairing of Cold Brew.
On Tap
We're happy to have both Cold Brew and Nitro Cold Brew on our menu again during Metric's residence! Made with Metric's Hellion blend – a tried and true coffee comprised of beans grown in Peru, it boasts deep chocolate notes with pleasant acidity. It's crisp, refreshing and always tastes like Summertime.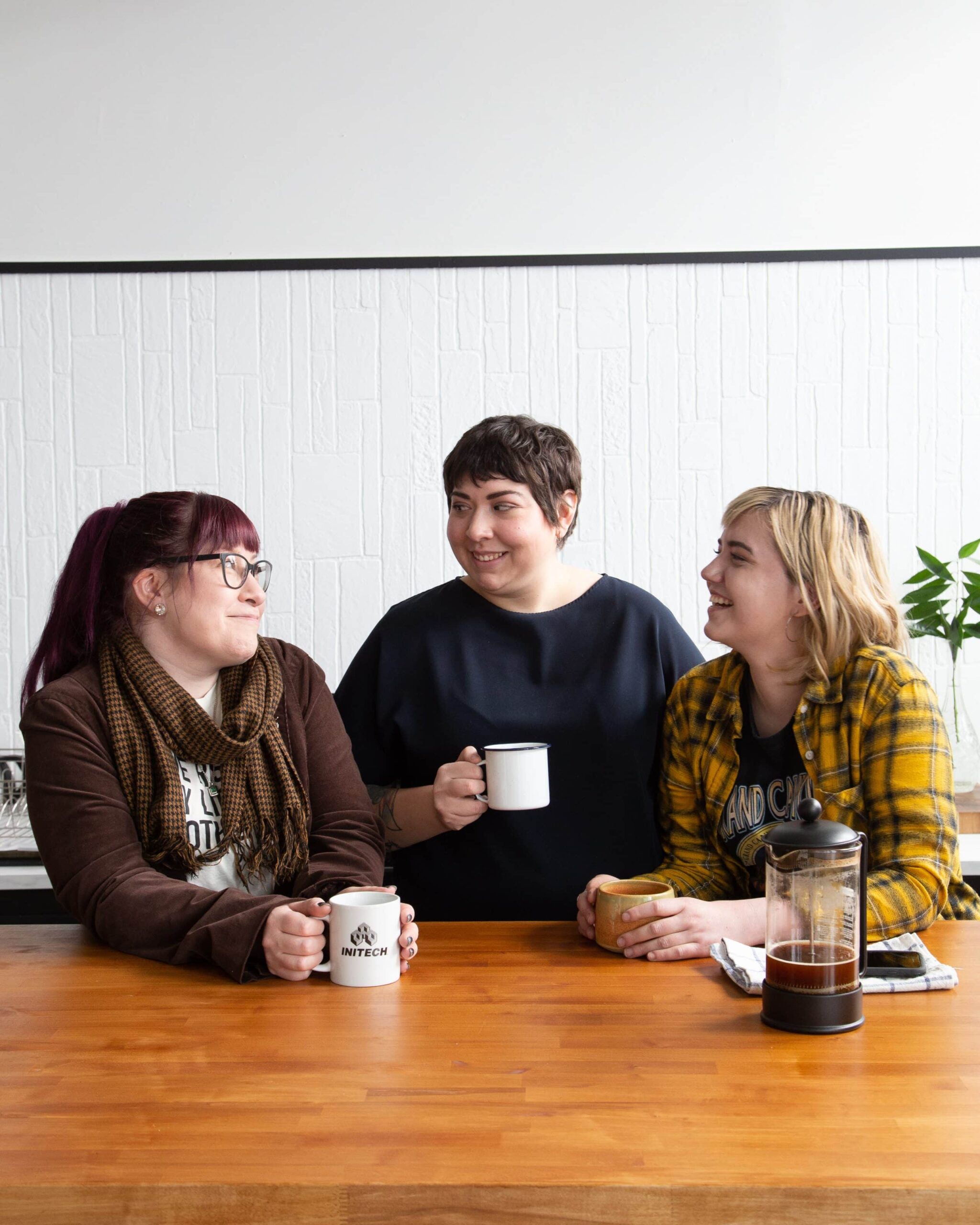 Events
Launch Party
Metric will be kicking off their residence with a launch party on Friday, May 3. This is an invite-only event and guests must RSVP to attend. To receive the invite and more details, be sure to sign up for our Local's Newsletter.
Friday Coffee Tasting – Friday, May 3, 10 AM
Join Metric as they host our weekly Friday Tasting – a traditional cupping of the five single origin coffees that are featured on the menu during their residence.
Origin Talk with Metric Coffee: Honduras – Saturday, May 4, 2 – 4 PM
Metric will host a panel discussion led by Xavier Alexander (Metric's co-founder and green coffee buyer), and featuring Benjamin Paz, a staple in the global coffee community. The talk will focus on Honduras farming culture and how with his community, Benjamin is changing the global perception of Honduras coffee. 
Origin Talk with Metric Coffee: Ethiopia – Saturday, May 18, 6:30 – 8:30 PM
Spend the evening with us as Metric hosts a panel discussion led by Xavier Alexander (Metric's co-founder and green coffee buyer), and featuring Michael Adinew, a third generation Ethiopia coffee professional who is advancing the industry on almost every level. The talk will focus on Ethiopia farming culture and how Michael has established and empowered coffee development there.
Head to our Facebook page for more details about these, and all our events.