With a week left in their residence, we're thanking Ditta Artigianale from Florence, Italy for sharing their passion, culture and coffee with our guests in Seattle. It's been a delightful month representing the team at Ditta and what they do each day at their roastery and cafes in Florence – honor Italian traditions and cafe culture while also embracing a more contemporary style of coffee.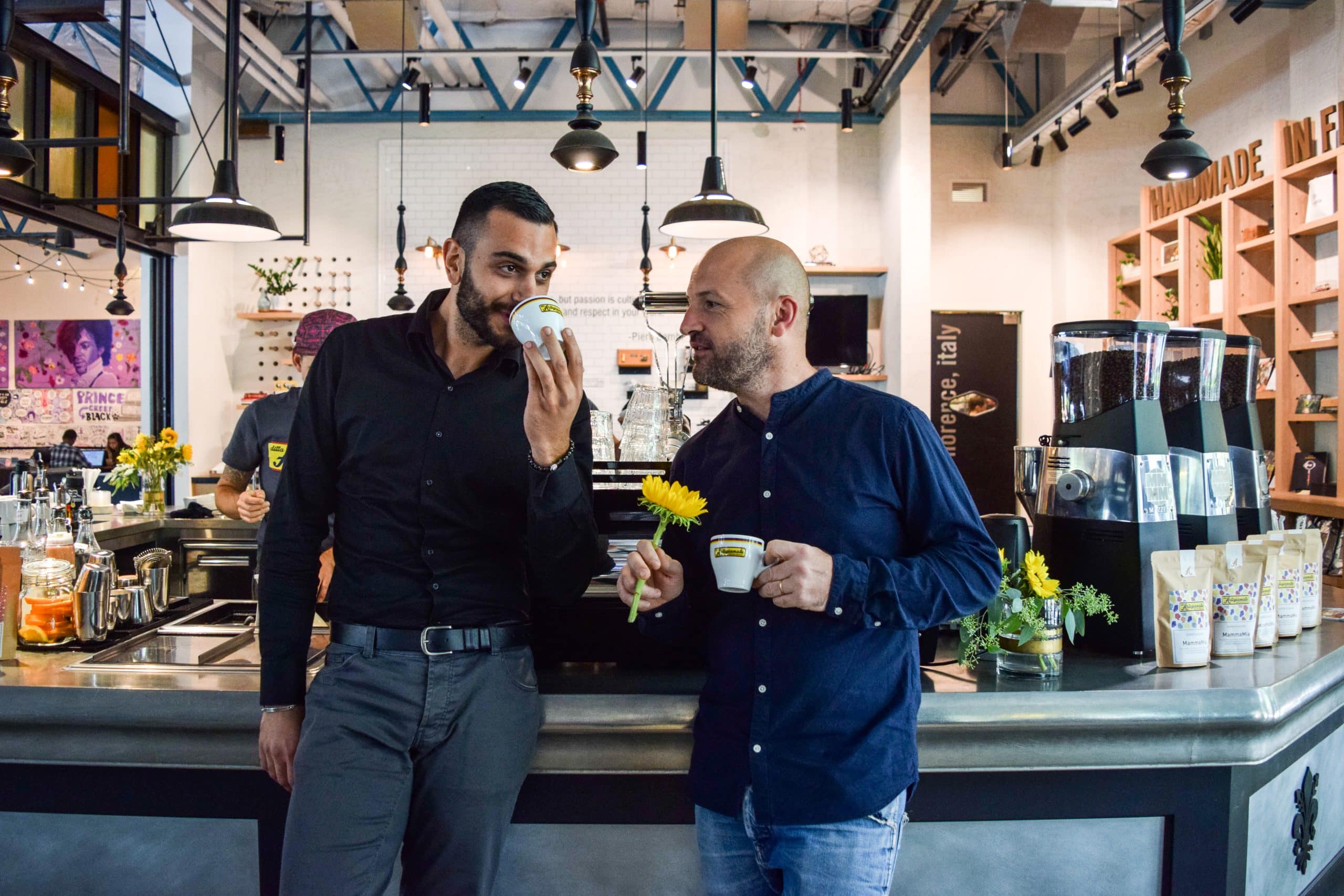 When asked about favorite parts of Ditta's residence, our Experience Coordinator, Leah had this to say: "My favorite part of Ditta's residence was during training when the two Francesco's talked about doing everything with passion and care and attention to detail. Whether it's the smallest drink or the biggest drink, something sweet or something black, just doing it in a way that's structured, clean and with passion and attention." We saw this passion and attention to detail carry through from the moment we met Ditta's owner, Francesco Sanapo and his Head Barista, Francesco Mascuillo and we are grateful to them both along with the entire Ditta Artigianale team for implementing such an incredible residence. 
Seattle – you have until Monday, September 16 to stop by and order from Ditta Artigianale's menu. There are so many good drinks to try, but we recommend treating yourself to a CoffeeMisu (drinkable Tiramisu!), a traditional Moka Pot with one of Ditta's single-origin coffees, or trying any milk-based drink featuring Ditta's Mamma Mia Espresso Blend.
Next up, we are delighted to be hosting Little Waves Coffee Roasters from Durham, North Carolina as they present a Cocoa Cinnamon Experience – the cafe and retail side of their company.
Co-owners of Little Waves Coffee Roasters, Areli Barrera de Grodski and Leon Grodski de Barrera together have a deep passion for history, culture, diversity and human kindness. Areli was born in Playas de Tijuana, raised in San Antonio, Texas and Cherokee, North Carolina then later studied Spanish language. Leon grew up in New York, Florida and Michigan, then later lived in Germany and France. Both had years of experience working in coffee when, after six years of friendship, they serendipitously connected in 2010. They were married six weeks later and, quoting them, "in the next six months with wide eyes, empty pockets, and illogical optimism founded Cocoa Cinnamon." In 2017, they began their coffee roasting operation, 4th Dimension, which was Leon's second as he had previously owned a roastery and cafe in the North Carolina mountains. At the beginning of September 2019, the couple re-branded as Little Waves Coffee Roasters.
"Little Waves Coffee Roasters is an impact-driven group of thinkers, dreamers, and doers who delight in the enduring power of coffee as a shared experience. By making small, determined reverberations through sourcing, roasting, and brewing, we add our open-hearted energy to the tides that unconceal and uphold the beauty of coffee and life." – Little Waves Coffee Roasters
The company is comprised of two distinct yet complementary parts: Little Waves is the quality and impact-driven coffee side of the brand through which they roast and offer wholesale coffee. Cocoa Cinnamon, the retail brand, is comprised of three cafe locations in Durham, North Carolina – each with its own unique, yet cohesive design.
"Our cafes are spaces where guests can experience the marvel of cities, the roots of languages, the wonder of travel, color, texture and the stories behind their coffee, chocolate and tea." – Little Waves Coffee Roasters
On Friday, September 20 at 12:30 PM, David Solow, the lead designer for all three shops will be here to speak about his experience designing cafe spaces. He'll describe how he created a unified and integrated experience of wonder and exploration for Cocoa Cinnamon's guests and the value of it. His design embodies the mission and tells the story of the company, coffee and community in which Cocoa Cinnamon exists.
Events
Launch Event: Join the Little Waves team on Wednesday, September 18, from 4 PM – 6 PM for an afternoon of coffee, empanadas and Loteria. Loteria, a beloved Latino bingo-style game of chance will be played in rounds with prizes to be won! Loteria game cards and empanadas (by Comadre Panaderia) will be for purchase, with proceeds benefiting the Washington Immigrant Solidarity Network.
Head here for more details on the launch event, and be sure to click "going!"
Little Waves will be hosting our Friday Coffee Tastings at 10 AM every Friday during their residence. Themes range from focusing on specific coffee growing regions to a brew method exploration and even a class on Kakawa – a precolonial cacao beverage.
A tremendous amount of thought and intention has gone into each event planned and all promise to be exceptional community events. Head here for details on all events during Little Waves residence.
Menu
Little Waves menu – which will be mirrored in their three Cocoa Cinnamon cafes during their La Marzocco residence – will rotate weekly and consist of two parts.
The Traditional coffee-forward menu will celebrate the seasonality and diversity of beautifully sourced coffees. On it will be all the favorite espresso-based drinks, manual-brew coffee, drinking chocolates, teas and two types of Affogato. Espresso blends and single-origin coffee for espresso and manual brew will change weekly.  We can't wait to try the Kareem Akiyoshi, a twist on a classic Affogato, made with Matcha and Molly Moon ice cream garnished with turmeric and ginger.
The Wonder menu will consist of weekly-rotating signature drinks that pay homage to specific people, places and the stories behind the beverages we consume. Week one will celebrate the wonder of travel with drinks like the Maria Laudicina in Carthage. Named after co-founder Grodski de Barrera's great grandma who lived in Sicily, this iced seltzer is prepared with espresso, spiced with coriander, maca and sweetened with local honey. Kakawa – a raw cacao drink made with hand-ground cacao, spices and steamed with water – will also be offered on the Wonder menu. Look for the Al-Andalus Kakawa during week one. It is made with cacao, anise, rose, black pepper, vanilla beans, raw sugar and sounds divine!
Little Waves weekly menu will be posted here each Tuesday during their residence.
Little Waves strives to present quality-made drinks using the best equipment with warm, knowledgeable service in a one-of-a-kind atmosphere. They value the diversity of people, languages, customs and landscapes. We are thrilled to welcome them into our space and into our Seattle community beginning next week.
"We make drinks after the histories and characters that inspire us, those who remind us of the beauty and possibility of humanity. Our desire is to allow coffee to be the catalyst that keeps us open. Our desire is to share our Little Waves with you, the community of Seattle, and to add something humble and helpful to the profession of coffee." – Little Waves Coffee Roasters
Little Waves residence at the La Marzocco Cafe will run from Tuesday, September 17 through Monday, October 21, 2019.