Today was the official launch of our Roaster's Showcase program.  This program is designed to give roasting companies an opportunity to showcase their coffee however they choose, away from confines of the typical coffee bar.
Our first showcasing company was Caffe Ladro.  Although Ladro's coffee bars have been serving Seattle since the early 90s, they only recently began sourcing and roasting their own coffee.  In recent months, Ladro has taken strides to improve the quality of their coffee, and as a company exploring new things in coffee, they were the perfect fit for launching the Roaster's Showcase.
Baristas from Ladro shared two coffees with us. First, an El Salvador called Natamaya, which was brewed via French press, and paired with a 65% chocolate.  The intention of the pairing was to highlight the sweet and round characteristics of the El Salvador.
Meanwhile, another barista was brewing some of Ladro's new Kenya Gaturiri.  This coffee was brewed via chemex, then poured through a wine aerator, and served in a wine glass.  The aeration and serving vessel were chosen to highlight the crisp acidity of the Gaturiri.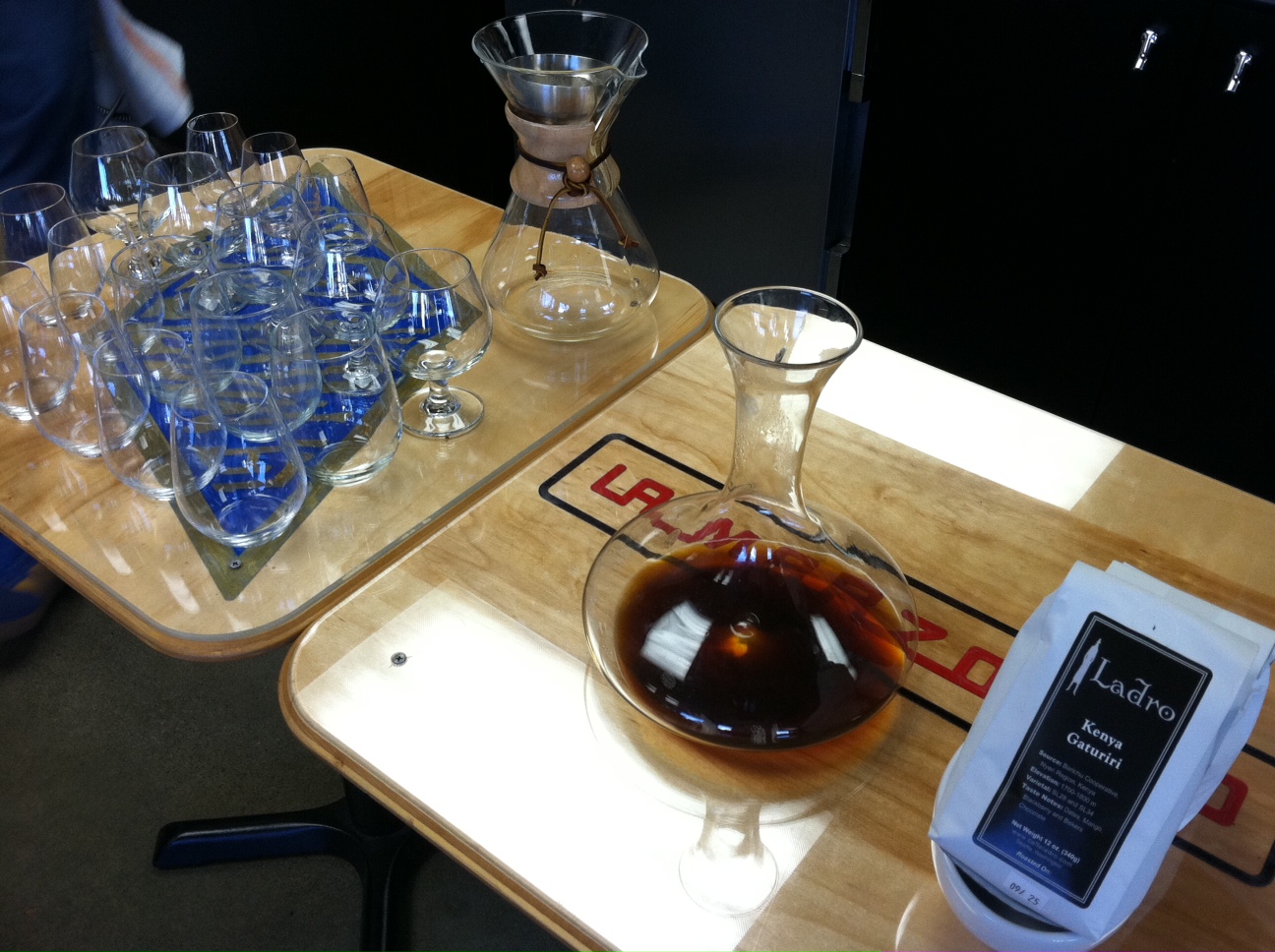 These two coffees, back to back, made for an exciting experience that all very much enjoyed.  Thank you to Ladro for coming to La Marzocco and sharing this experience.  It was an excellent way to kick of the showcase program.
Next week, our presenters will be Seattle's Kuma Coffee; again, the showcase will start at 10 AM.
Requests are pouring in from roasters all over, and we have some very exciting ideas being brought to the table.  If your company is interested in the Roaster's Showcase, please email training@lamarzoccousa.com for details and to secure your showcase date.