This is an informational preview of the Strada debut at SCAA. No, it's not about the iPad app, though we do have something similar to that in the works. What will be shown are stage 3 prototypes of 2 models of Strada.
You can download the information here.

TOTAL CONTROL PLUS REAL PRESSURE PROFILING
Advancing espresso brewing technology to new frontiers, La Marzocco introduces the Strada, a new machine that allows the barista, for the first time, to have absolute and direct control of pressure throughout the extraction.
DESIGNED FOR & BY BARISTAS
Strada is the first espresso machine created with continuous design involvement by the La Marzocco Street Team, comprised of the world's top baristas and barista champions, overseeing such topics as:
Machine design and ergonomics
Extraction and quality in the cup
Programmability and serviceability
Combined with La Marzocco's industry leading engineering and 6 years of R&D, Strada is for the serious barista.
REAL PRESSURE PROFILING
Pressure profiling is able to bring out different flavor components to effect the balance and body of the shot, and tends to produce a rounder, softer espresso that highlights brightness, sweetness, and delicate notes.
Strada is the only espresso machine that gives the barista direct control of pressure at any point during an extraction. This opens up infinite possibilities for varying the quality of extraction and is the most exciting advancement in espresso machines today.

Strada can record and replay the desired pressure profiles indefinitely, a key feature that allows efficiency, quality, and consistency in a busy bar environment.
2 MODELS
Strada is a completely new platform from La Marzocco, available in two versions: Mechanical Paddle and Electronic Variable Pump.
Mechanical Paddle
Direct control of water flow and pressure mechanically via an internal valve, thus allowing pressure profiling.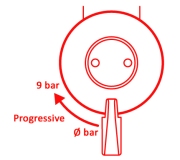 Electronic Variable Pump
Precise progressive pressure control via proprietary gear pumps*. Programmable and repeatable pressure profiles for infinite possibilities.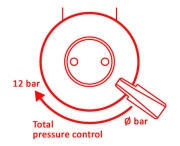 FEATURES
Design
Engineered based on feedback from the La Marzocco Street Team, an elite group of the world's top baristas and barista champions
Low machine profile and minimalistic design
Stainless steel body panels with exposed groups
Fully articulated, lever actuated steam wands
Cast aluminum side panel with glass inserts
Usability
All new, barista-friendly & ergonomic design
Real time actual brew pressure gauge per group
Paddle controls increasing or decreasing brew pressure at any point during the extraction from 0 to 12 bar
Wider drain tray with adjustable height
Back-lit gauges and displays
Tech
One pump, one pre-heater, one mix valve, one coffee boiler, one PID, and one real time brew pressure gauge PER GROUP
Paddle controlled motor speed for variable pressure*, programmable and infinitely repeatable
Jog wheel programming interface
Internally mounted pumps
ETL and NSF approved