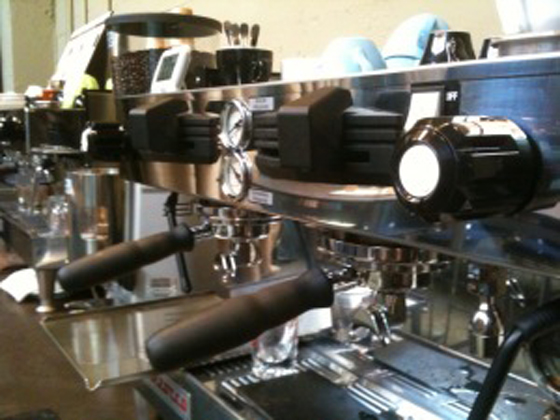 Our friends at Visions Espresso introduces their Coffee Enhancement Lounge (nice blurb here from Seattle Times), an extension of their services into training and consulting. Spearheaded by the always cheerful Sarah Dooley, every event should be a blast.
The Coffee Enhancement Lounge, or intentionally abbreviated as CEL so people like me won't forget, features a La Marzocco Linea Manual Paddle, a standard Linea, and a GS/3. Soon it will also feature a Slayer, so baristas can have a smackdown between a Slayer and a Linea Manual Paddle.
When not training, Sarah and her accomplices at Visions enjoy water gun/balloon fights, pranks during coffee cupping, and anything else that doesn't relate to work.
If you'll be around Seattle on Saturday, August 29, check out CEL's all day class/lecture on defect cupping, PID, SO espresso roasting, equipment mods, and more presented by many industry names you may know. The event will migrate over to a BGA sanctioned Barista Jam/Latte Art Smackdown at Victrola, where winning NW baristas will compete with LA baristas during Coffee Fest.