This is the second post in a three-part profile of G&B Coffee, and is the first profile in an occasional series exploring ideas, principles, and practices in specialty coffee that we're calling the Accademia Series.
There are many reasons to go to Kyle Glanville and Charles Babinski's G&B Coffee in Downtown Los Angeles. There's the coffee, of course, but also non-coffee drinks like turmeric almond macadamia lattes and fizzy hoppy teas, and excellent yeasted waffles and housemade granola. And there's the experience of the place itself, a space where your beautifully made drink arrives faster than the time it took you to find a spot to park. And that, exactly, is the point.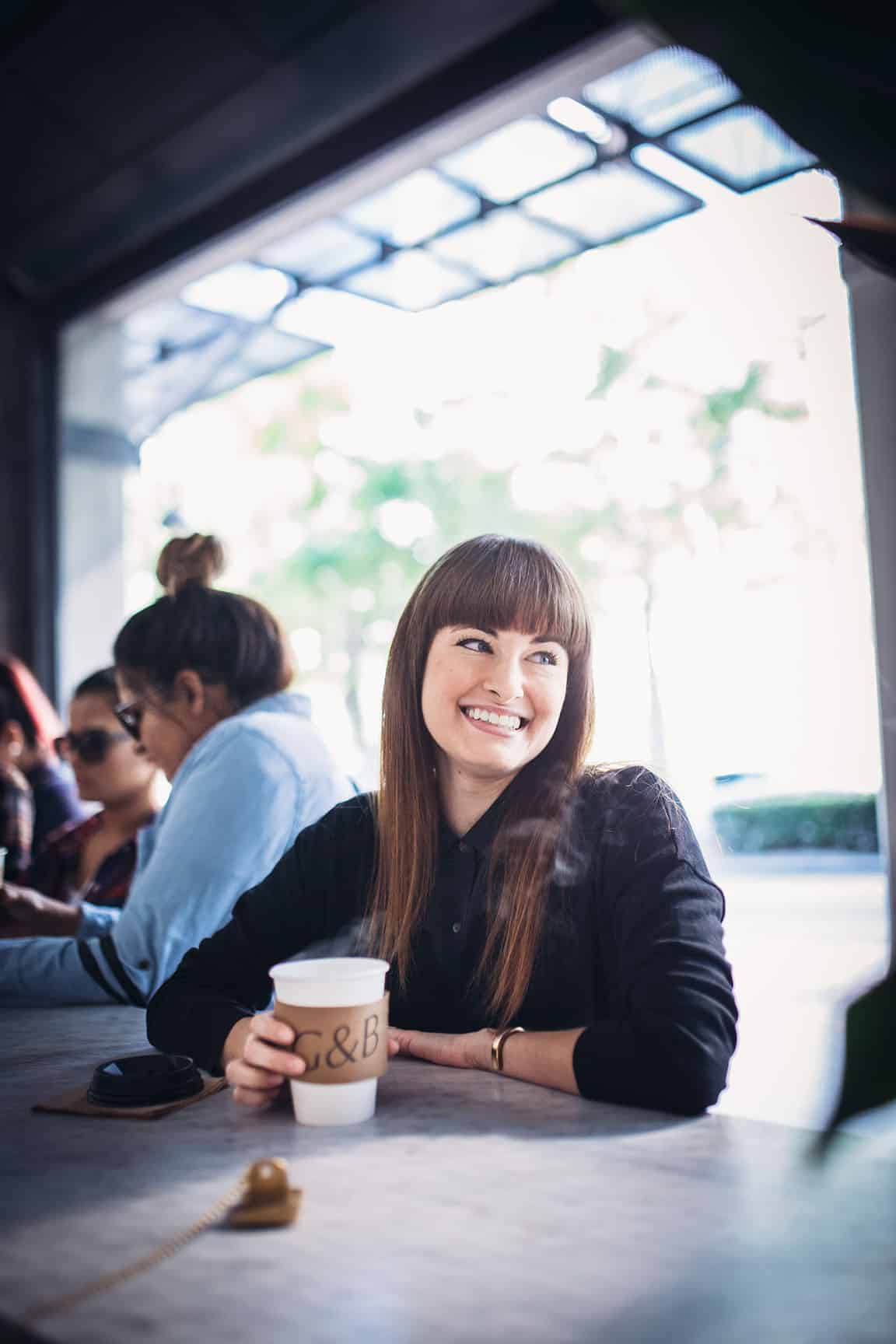 In the first part of this series, we looked at how Kyle and Charles honed in on their recipes and how they pre-grind and pre-dose their coffee to speed up espresso service without sacrificing accuracy. In this part, we look at how the volumetrics on their La Marzocco Linea PB espresso machine help their baristas make solid espresso drinks in no time.
The Linea PB
"If you're a barista on any level, working on a semi-automatic machine where you start the shot and stop the shot manually," says Kyle, "You just have some shots that you fuck up. And the busier it gets, the more that happens."
He and Charles, like most every coffee shop owner, want to avoid those mistakes. They also want to make and deliver espresso drinks quickly. With their Linea PB's volumetric controls, they have achieved both goals.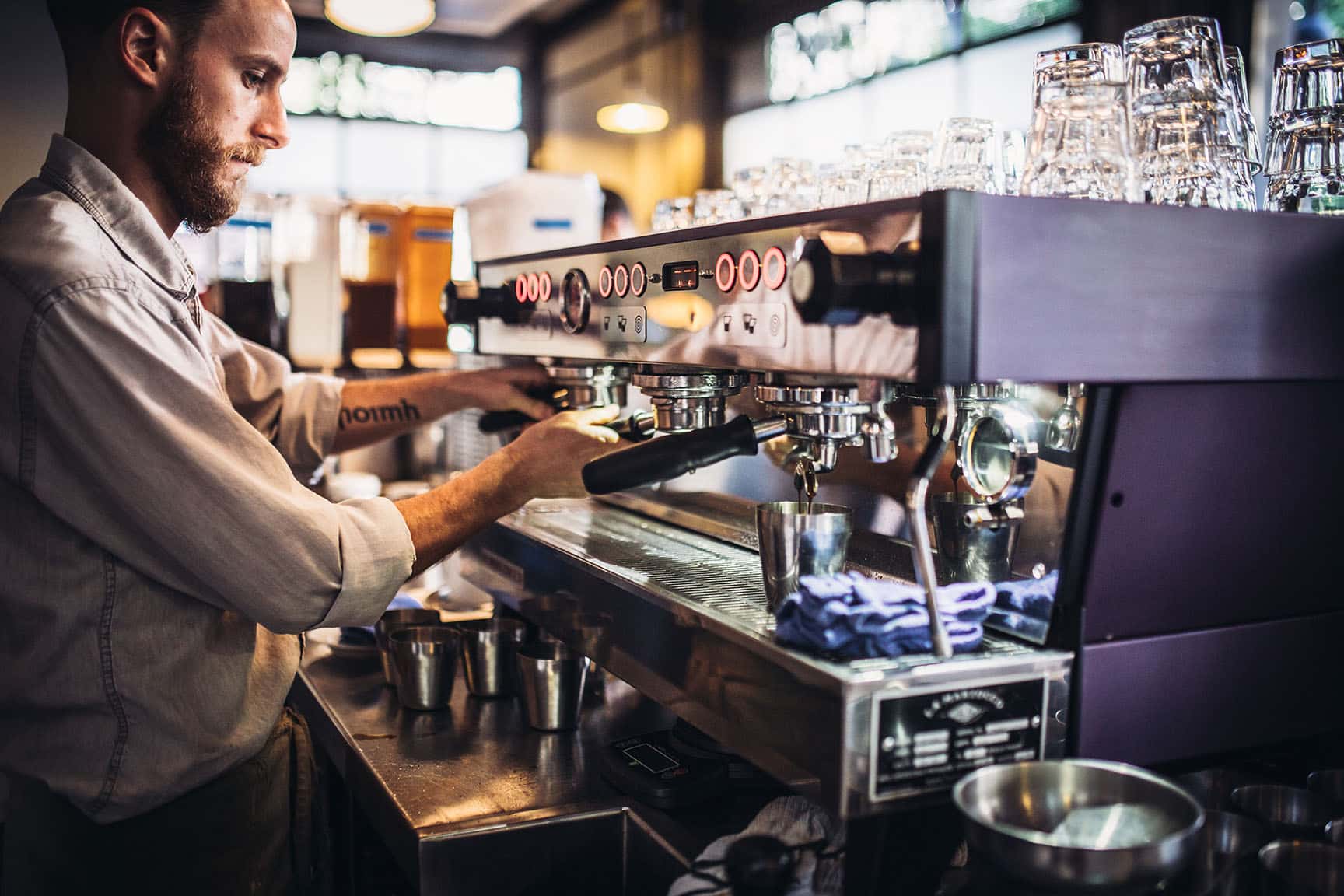 Initially, the two were not completely sold on a fully automatic machine. There was — and to some extent, still is — an attachment to the idea that baristas, not machines, should control the shot. When Kyle and Charles opened G&B Coffee in 2013, in fact, they were using a machine with a mechanical paddle.
Then they watched Matt Perger's "Man vs. Volumetric" experiment. For the uninitiated: Perger put a barista up against a Linea and its volumetric capabilities. The machine was far more consistent than the man. (Ben Kaminsky ran a similar experiment, "Barista vs. Volumetrics," with similar results.)
Kyle and Charles decided to go all in with an automatic machine for their second shop, Go Get Em Tiger, which opened just after G&B Coffee began serving drinks at Grand Central Market. It was a custom four-group Linea with group timers, volumetrics and a "few other tricks," Kyle says. Even at this point, though, the buy was a leap of faith. "We bought this very expensive machine, premised on the idea that we could abandon this very manual thing that we were used to doing," he says. "Which maybe doesn't sound like a big deal, but felt like a big deal at the time."
On bar, the Linea proved itself in no time: its deviations from the set target extraction rates were within half a gram, in either direction. "Even a barista, staring at a scale, could not replicate that precision," Kyle says.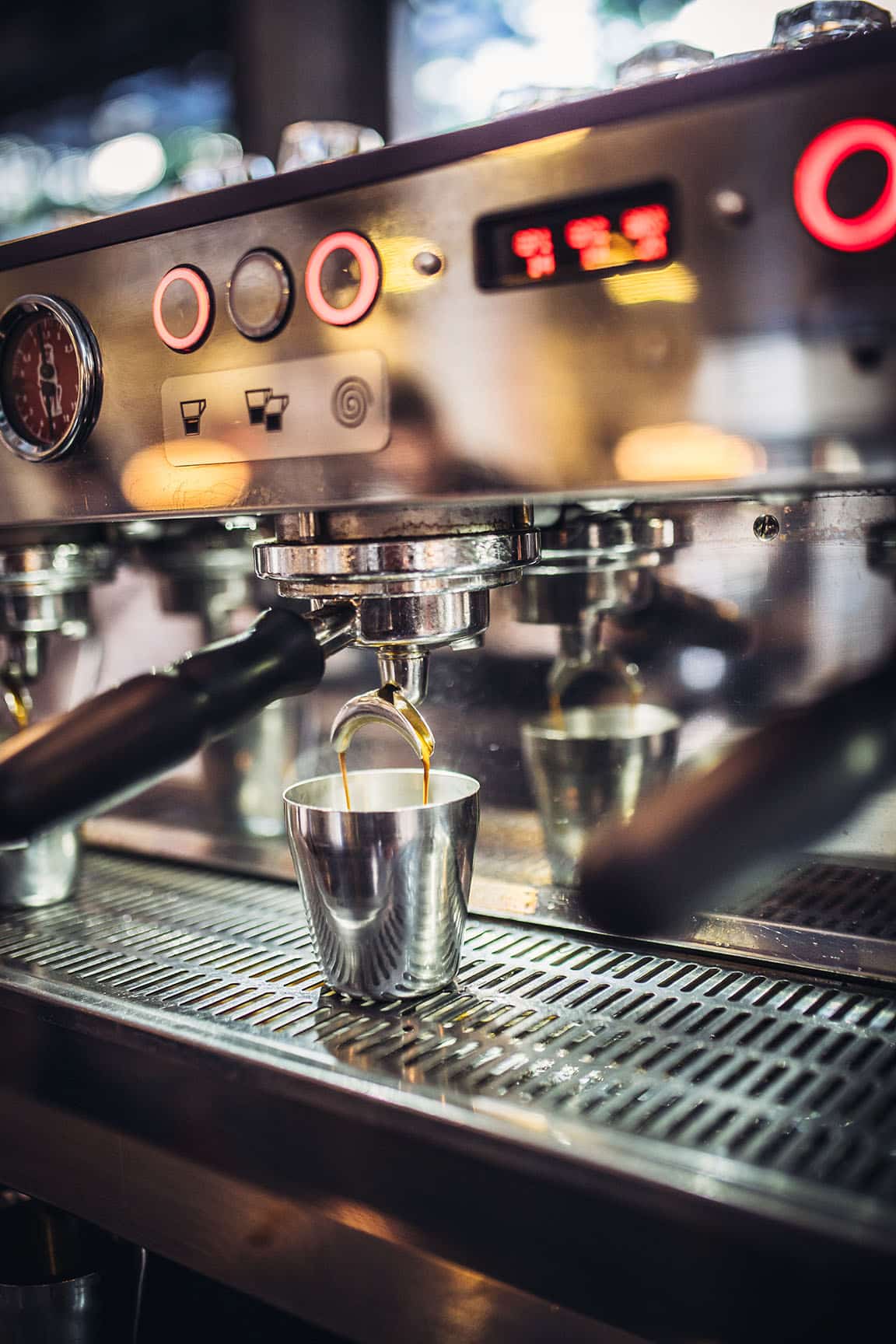 That precision means recipes can be executed accurately and consistently, no matter who is on bar. As owners, this repeatability is an enormous benefit: they can be confident that the espresso served while they're away from their shop is the same as it would be if they were the ones on bar. The other benefit is a bit more of an existential one, as there is a communal identity to the coffee, precisely because the quality of the drinks relies so much on recipes and not on individual baristas. Everyone, in other words, is invested equally in the same outputs and the customer experience.
Over at G&B Coffee, Kyle and Charles now use an automatic volumetric three-group Linea, painted a deep purple. Especially here, with the crowds as they are, embracing volumetrics has enabled them to achieve their other goal: speed.
"Volumetrics allow the barista to cover a wider area and do more things and do the central role of pulling shots more accurately," Charles says. Among other things, it frees up the barista to pull even more shots.
Because the coffee for espresso is pre-dosed and pre-ground, a barista dedicated to just pulling shots can plug in three portafilters in the Linea and, in the 30 seconds or so while those three are extracting, can load up three more portafilters. When the portafilters in the machine finish extracting, those three come out, and the three that were just prepped are locked in. And repeat. At full speed, then, a fast barista working with the portafilters in triads can do six shots in about a minute.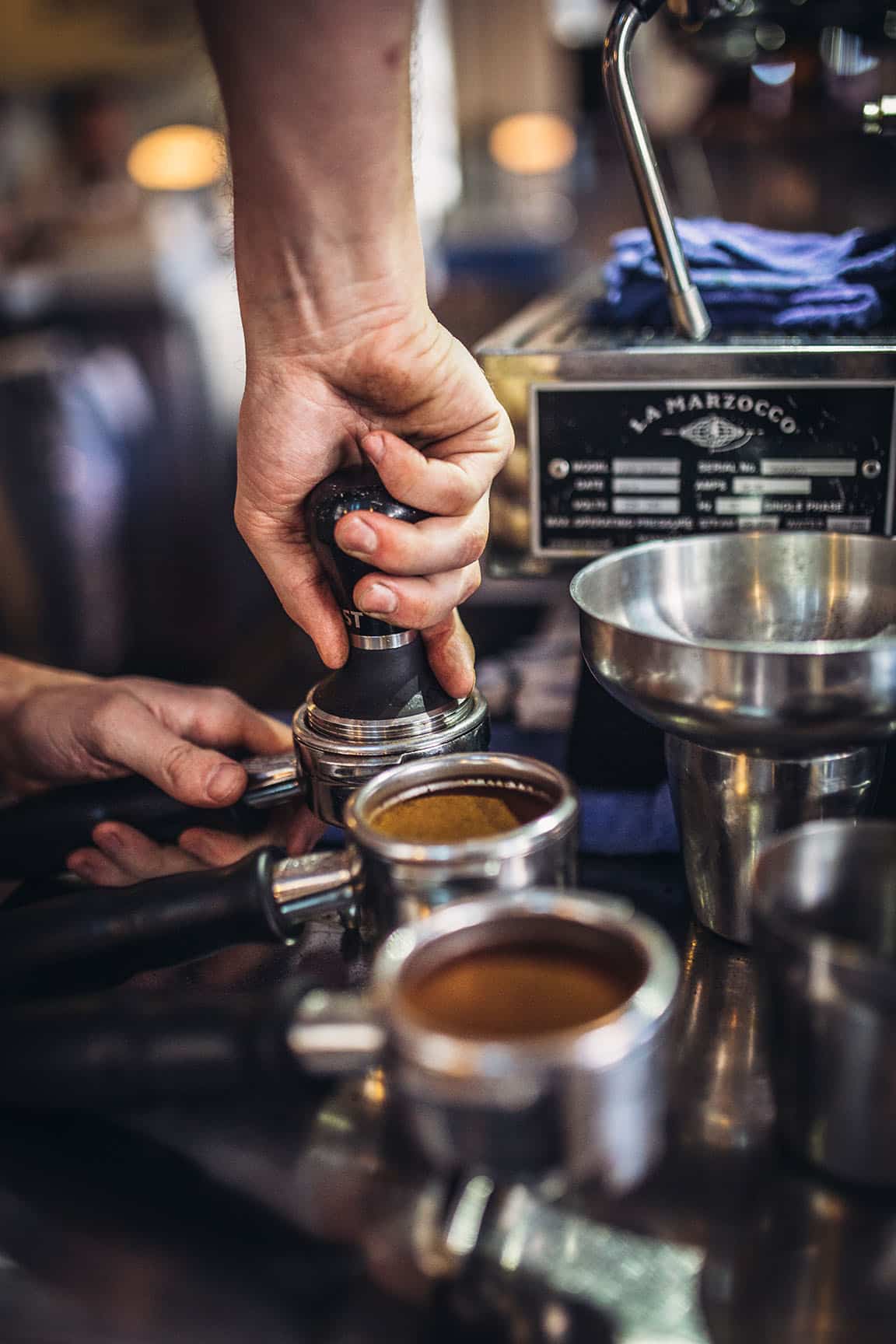 "Basically, the machine is always running," Charles says, "And it can make more espresso than one shop can serve, really."
"If we ever hit a volume where that's not enough," Kyle adds, "Then we're the richest men in Los Angeles.