This is the third post in a three-part profile of G&B Coffee, and is the first profile in an occasional series exploring ideas, principles, and practices in specialty coffee that we're calling the Accademia Series.
 On average, G&B Coffee makes 1,250 to 1,500 drinks on a busy weekend day. Those drinks generally tend to arrive quicker than you would expect given the crowd, and taste as good as it does when there isn't the crowd. This is a feat.
We've been looking under the hood at G&B Coffee, so to speak, seeing how owners Kyle Glanville and Charles Babinski developed a series of unique systems structured around speed and quality. Earlier, we saw how they pre-dose and pre-grind their coffee for espresso, and how they take advantage of the volumetrics on their Linea PB to speed up their bar flow. Now, for this third and final entry in this series, we explore the process that led to their decision to use a batch brewer for filtered coffee, and how they've organized the bar and the staff to keep the gears running. And, in so doing, make G&B Coffee not just one of the best coffee spots in Los Angeles, but also one of the most fun.
Bar Organization
When G&B Coffee opened, it was but a counter flanked by a few stools. Just a few months ago, the bar was completely remodeled, so it is now a rectangular island. "It's opened us up to the whole market," Charles says. "It's made us more approachable, and the experience more immersive."
Significantly, part of the immersive experience is that there are no lines here. Instead, you just walk up to the bar and flag down a barista, if they're not already on their way over to take your order.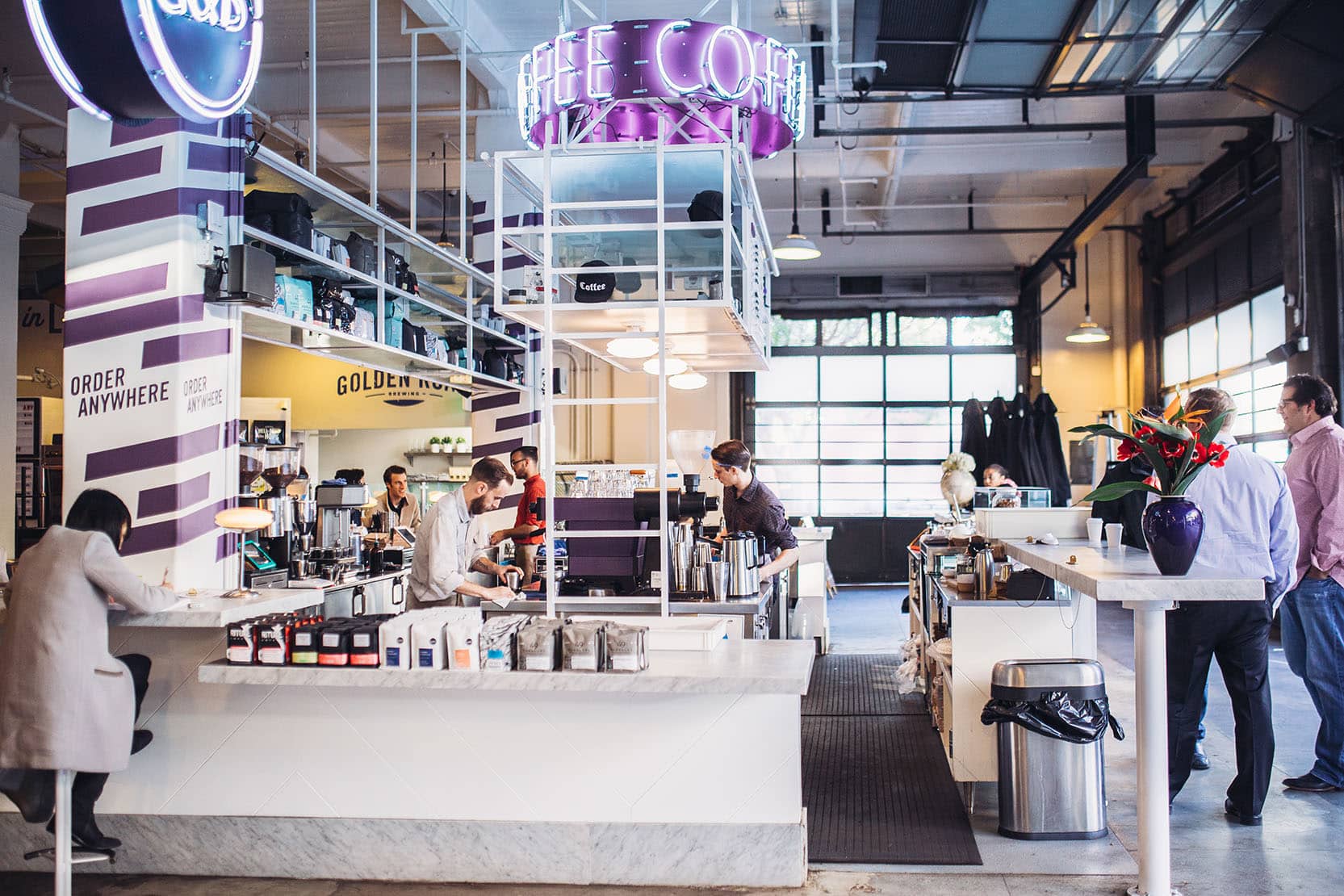 Breaking up the queue was not something Kyle and Charles initially set out to do. Rather, the idea occurred to them bit by bit. Before starting their business, the two took a trip to Madrid for a friend's wedding. While there, they very much liked the bars found in most every neighborhood, little places where you could grab a spot at the counter, surrounded by anyone and everyone, grab a sandwich and maybe a caña. It was energetic; it was lively. They liked that vibe. They tucked the idea away in the back of their minds.
When Sqirl opened with G&B Coffee in tow, it wasn't immediately packed with folks jonesing for toast and jam and coffee. Within a few months, though, word got out, and the lines gradually got long, and then longer still; indeed, there are many people in Los Angeles who could tell you about that line, and how it started early and snaked out the door and well past the patio and didn't really let up until about an hour before closing.
Charles says, "At a certain point, we thought, What if we just helped anybody who needed to be helped? That way, we can better serve customers. That sentiment was freeing and exciting."
"The more aggressive we were about getting out into the space and meeting people and getting their orders, the more communal the vibe was," Kyle says. "It felt more real. It felt like a dinner party."  That thing they liked about the places they went to in Madrid was something they could see working at their own place.
Thus you do not queue up at G&B Coffee. You order anywhere, on any side of the bar, at any time. It's a challenge to not fall back on the queue — especially when it seems that, despite "Order Anywhere" signs posted around the bar, a line forms anyway — but it's a challenge the team readily accepts.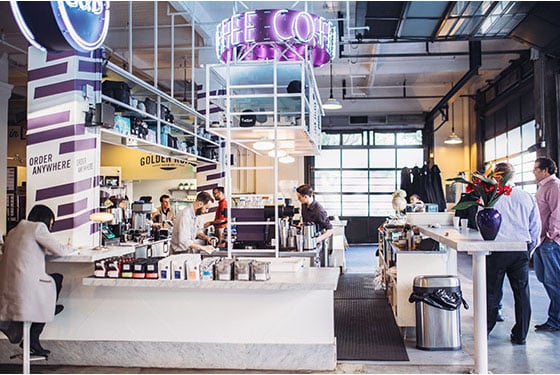 The other challenge accepted: creating a system behind the bar to handle the non-lines. Kyle and Charles have broken up the bar into two general areas; the center area is where most of the food and drinks are prepped. The outer lanes of the bar are divided into color-coded zones (up to 6, depending on the size of the crowd). Each zone is equipped with its own till, as well as leather swatches, both of which match the color of the zone. Baristas are assigned to zones, and when they pass an order to the prep area, they'll put down the appropriately colored swatch, then a cup. The exact order is communicated through the swatch and the cup like letters in a language: a swatch placed upside down, for example, signals almond milk; a wooden stir stick placed in the cup indicates a hot chocolate order.
For them, this is far more efficient than a ticket system that requires baristas to find buttons, punch in modifiers and so on. Sounding a bit like a hockey coach talking defense, Kyle says it also keeps the staff "moving horizontally across the bar" and actively taking orders, keeping water glasses filled and generally providing solid customer service. An expeditor (or, in G&B Coffee parlance, the Bar Boss) keeps everything in order at the prep station.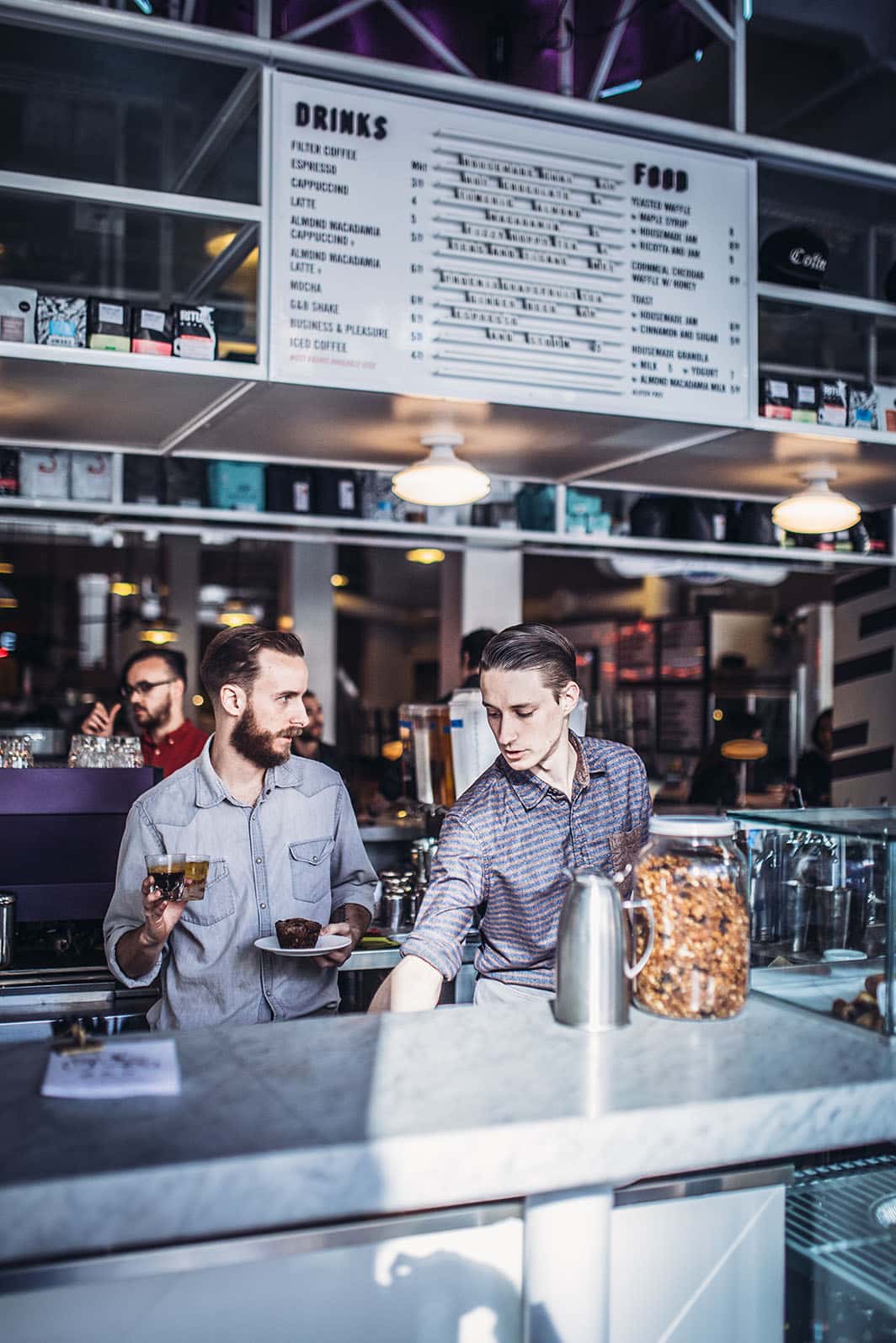 As quickly as orders go out now, Kyle and Charles are still looking to unclog other bottlenecks. Currently, they're focused on the milk station: thanks to pre-dosing, pre-grinding and volumetrics, baristas can pull more shots than they currently can steam milk for. This is a very good problem, one that will be resolved with the addition of a steam wand, which should be installed by sometime this summer. On a more general level, they're contemplating ways to reduce milk waste and keep their milk dosing consistent.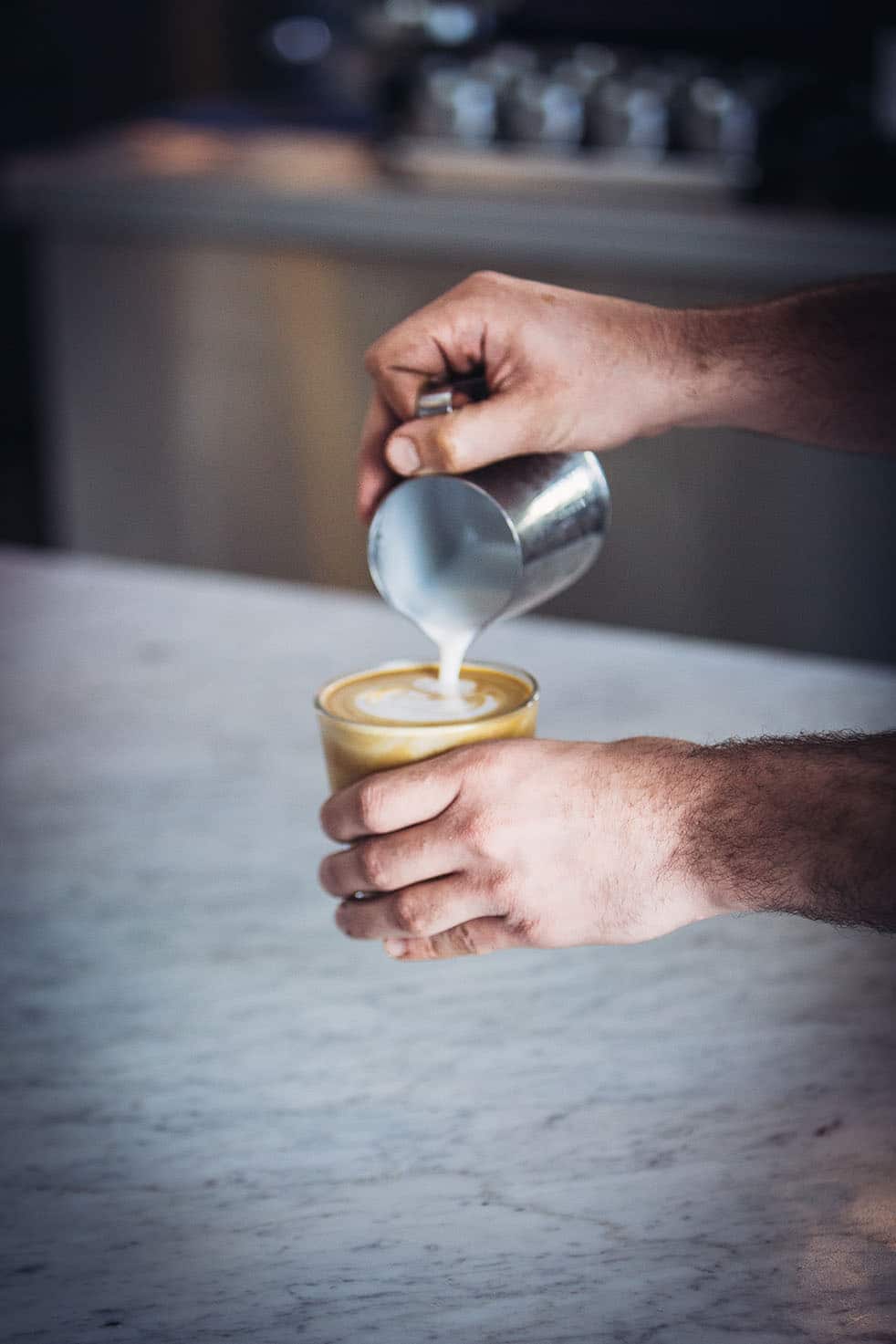 All that, so great coffee can be made even more quickly and accurately in an environment that's fun for everyone on both sides of the bar.
"We're going to do the thing that gives us the best, most consistent coffees, at the speed we need to, to serve the customers we have well, so that more customers can come and more people are here," Charles says. "So it's a bigger party. With more fun vibes."
Filter Coffee
If you order a filtered coffee to stay at G&B Coffee, it will be delivered on a tray, in a pretty ceramic hand-thrown mug filled nearly to the brim.
Prior to being delivered on the tray, in a pretty ceramic hand-thrown mug filled nearly to the brim, the coffee would have been brewed in a Fetco. Which is not always how Kyle and Charles made filtered coffee: back before they opened G&B Coffee, when they were popped up on one side of the tiny restaurant Sqirl, with Jessica Koslow and her kitchen team making toasts and sorrel pesto rice bowls on the other side, they brewed coffee using Kalita Waves. They treated the Wave like a batch brewer, making one liter at a time to yield three 12-ounce cups. As they and Sqirl became more popular, this brewing method didn't make quite enough fast enough, but they continued with it nonetheless, all the way up until the early days of G&B Coffee.
After experimenting with ways to use the Wave to make even bigger batches of filtered coffee, they decided to try using a device that is actually intended to make big batches of filtered coffee. They borrowed a Fetco from a friend, programmed in their Wave recipe to make a two-liter batch and ran a few blind tests. Hands down, they preferred the coffee brewed by the Fetco. The decision was easy from there: they let go of the kettles and the cones. They installed the Fetco. And haven't looked back since. Indeed, in a high-volume environment like theirs, the benefits are too great to go back to the pourover system of making filtered coffee.
"If the only way to get a delicious cup of coffee was to do it individually, upon order, that would be one thing," Charles says. "But you can make the batch of coffee 15 minutes before the customer shows up, keep it hot and it'll be just as good."
For their filtered coffee, then, a Mahlkonig EK-43 grinder is dialed in so the brew hits 1.45 to 1.55 percent TDS. That translates, Kyle says, to coffee with "lovely aromatics, citrusy complex flavors that aren't sour and certainly not too light." Around midday, after several brew cycles, the coffee is checked with a refractometer to make sure things are in order. If the strength is off, adjustments are made to the grind.  In general, though, the batch brewer, like their Linea PB espresso machine, reliably follows their set recipe, so the coffee you have here is pretty much what Kyle and Charles intend you have. Delivered posthaste, of course.