On Sunday, July 30 a special coffee and pastry pairing was held at the La Marzocco Cafe to celebrate the relationship between the Cafe and The London Plane. After a brief introduction, guests were invited to sample bites of London Plane pastries – each paired with different coffee hand selected by Cafe Experience Coordinator, Lucas Rickerson. It was a delectable afternoon and we were happy to have so many guests join us for the tasting. We are honored to be able to have a continuing relationship with The London Plane by offering their delightful pastries and bread to our guests. Read on to learn more about the beloved Seattle company and how our relationship formed.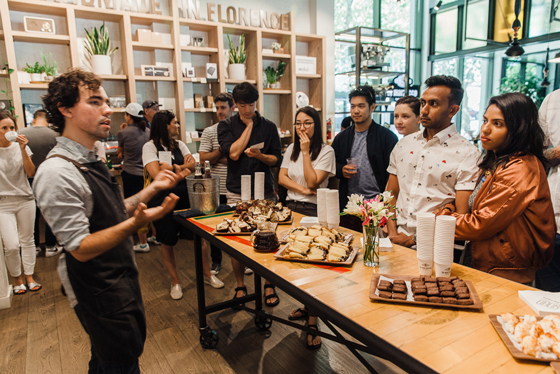 Since opening its doors in 2014, The London Plane has risen to icon status in the Seattle restaurant scene. Spearheaded by Matt Dillon, James Beard award winning chef and restaurateur, this unique space is known for its innovative combination of café, floral shop, artisanal grocer, and bakery, that draws locals and visitors alike back time and again.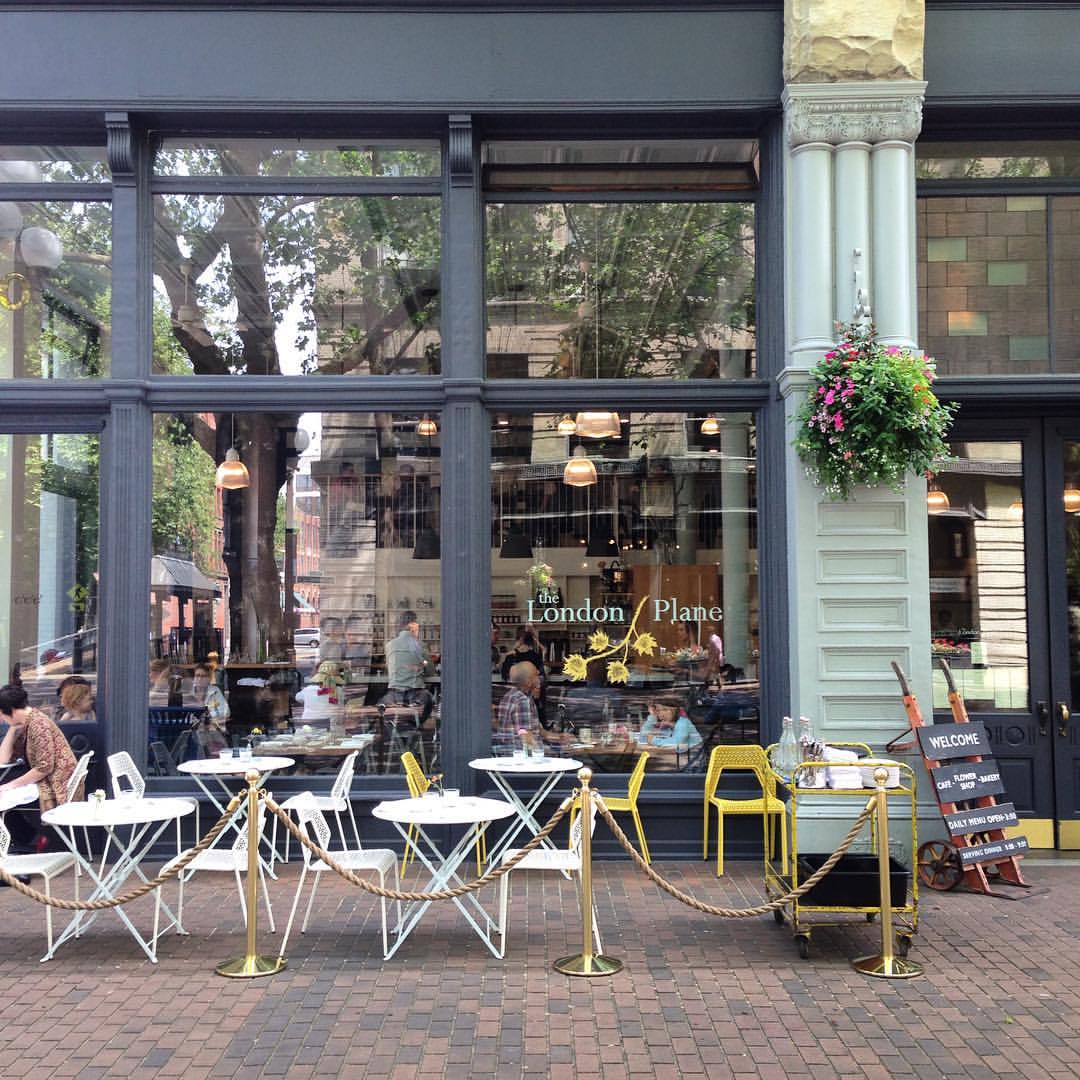 The London Plane bakery takes inspiration from baked goods from around the world and are made with sustainable, local ingredients. From cakes and cookies to biscuits and tarts, their collective 50 years of baking experience is evident in the excellence and creativity of everything they produce. We chatted with Yasuaki Saito, General Manager of The London Plane, to get some background on the space and the origins of their bakery program:
"The London Plane, located in a renovated historic bank building fronting the plane trees that line Pioneer Square's Occidental Plaza is a modern, airy space housing a restaurant, a cafe, a specialty foods grocery, a florist, and a bakery. This one-stop market is a collaboration between Katherine Anderson, owner of Marigold & Mint and M & M Botanicals, and Matthew Dillon, owner of Sitka & Spruce, The Corson Building, Old Chaser Farm, and Bar Ferd'nand. They are both Seattle natives who met through mutual connections & the small business network of the Melrose Market on Capitol Hill. They share an aesthetic affinity as well as a desire to make a positive impact on their hometown & our re-emerging neighborhood.  
The bakery component began as part of the pastry & bread baking happening at Matt's other restaurants headed up by pastry chef Sarah Ellsworth (now at Canlis) & Michael Sanders, bread baker & owner of Plane Bread. In the portion of its identity as an all-day restaurant & cafe, the idea of baked goods made in house was at the core of the business model. As the shop developed, so did its reputation for the best quality ingredients and the tastiest recipes for everything from biscuits to cookies."
When we began the search for a pastry partner at the La Marzocco Cafe, we wanted a partner that would match the quality and passion of the roasters and cafe's that we are proud to showcase. The London Plane was the ideal candidate. Saito explains how that partnership came to be:
"With the impending opening of La Marzocco's Cafe coinciding with the expansion of the London Plane's operation into a new commissary kitchen next door to our main location, a wholesale relationship was born. In addition to Matt's familiarity with The La Marzocco team in Seattle, I was also fortunate enough to know Joe Monaghan (President of La Marzocco USA) through my time at Stumptown & the Woodsman Group in PDX.  Scott Guglielmino (Product Manager for La Marzocco) introduced us to Amy Hattemer (General Manager at the La Marzocco Cafe) and she has been an absolute joy to work with on the project.  
We all believed it would be a great match even though we didn't know how it would be received or how the monthly transitions would work. Over the course of the first year, both La Marzocco & the London Plane created new facets of our respective businesses & grew them in accordance with that belief. Although we all have experience in the general operations we started, in some ways we've had to make it up as we went along. We have added savory components & bread to the menus. We change the base offerings seasonally. We try to engage each resident with options for customization as with the Four Barrel doughnuts as a nod to their SF relationship with Dynamo. The overlapping of our philosophies (tradition, craft, quality, service) made us good partners to start. Our collaborative spirits have allowed the relationship to blossom."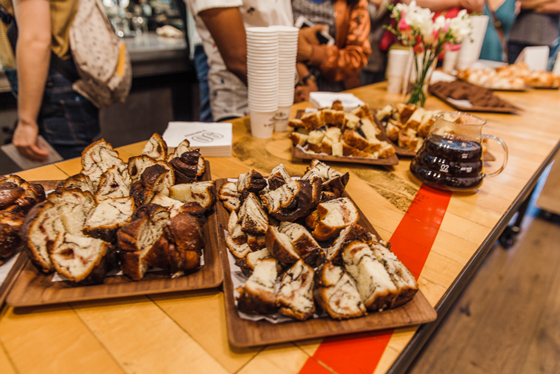 Our cafe manager Amy Hattemer played a large part in forging the relationship, and admits there was a mutual affinity for one another:
"We at La Marzocco have been friends with the London Plane team for quite some time, I believe sharing a bit of a mutual company crush. The stars aligned and right as we were opening our cafe, The London Plane was opening its commissary kitchen. We were lucky enough to be one of their first wholesale customers."
The entire gathering space itself has been an exciting opportunity to cross-collaborate, an experience that London Plane and Saito have enjoyed being a part of:
"La Marzocco's Cafe in KEXP's New Home has been a runaway success. Marrying two Seattle icons (Coffee & Music!) in one space has become a true community gathering space for Seattleites and tourists alike. We collaborated with KEXP during the recent Upstream Music Fest. We have had the chance to cater events at the New Home for both La Marzocco and KEXP.  The benefits have been tremendous for us as we have been able to feed more people and expand our brand. We hope we have added to the experience & satisfaction of all the people involved with the cafe and its residencies, the staff of KEXP and the everyday visitors to La Marzocco. We are grateful for the opportunity to be a part of the group story we are telling and are humbled to be able to serve our collective guests."
Hattemer shares in this sentiment and gratitude to have forged such a partnership:
"Working with the London Plane for each residency offers us a unique opportunity to not only have a strong food program each month, but to also expand what we offer with each new resident through the creative relationship that our teams share. We would not be able to do any of this without the incredible communication and imaginative talents that our teams share and we are eternally grateful."
For information about events like these and all happenings at the La Marzocco Cafe, follow along on Instagram, Twitter or Facebook.