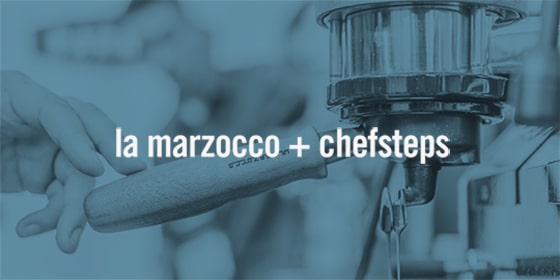 At La Marzocco, we're passionate about both the tradition of espresso, and also the evolving nature of the craft of espresso. We're fortunate to be part of the ongoing discussion, and to help share knowledge so that the preparation of great coffee can become more accessible to all.
Nearly two years ago we partnered with a small group of award-winning chefs, filmmakers, and engineers who were building a company around their commitment to inspiring creativity and encouraging expertise in the kitchen. ChefSteps was just getting started in their kitchen down the street from our office, in Seattle's culinary heart, the Pike Place Market. Together, we knew that we could create exceptional coffee content.
https://srv/users/lamarzoccousa/apps/lamarzoccousa/public.youtube.com/watch?v=7B2mpWGtz90
The result was released this week. It is a first-of-its-kind, comprehensive class on all things espresso. Make no mistake: nothing like it exists on the Internet, or anywhere else. Beyond tons of tips and tricks for making espresso drinks, you'll find all the inspiration you need to prepare espresso at home, order a great drink, buy equipment and beans, or find your new favorite café.
It's available to all – for free – here.
This project was made possible by a large team, including Los Angeles-based business owner and barista Charles Babinski, who appears in the videos alongside La Marzocco Home Senior Marketing Manager Scott Callender.
This project is part of an ongoing La Marzocco initiative to help people experience great coffee at home. In the coming weeks we'll be sharing more about La Marzocco Home. To be among the first to be notified about La Marzocco Home, visit home.lamarzoccousa.com