The La Marzocco Cafe was built to be a place where guests from Seattle and beyond could gather to enjoy specialty coffee from roasters all over the world.
In it's first year, the cafe has welcomed 11 roasters from 5 different countries including: Stumptown, G&B, Buna, Campos, Counter Culture, Intelligentsia, Panther, Pilot, Cat & Cloud, Heart and Tim Wendelboe.  With each roaster, the cafe's talented team has dialed in an entirely new menu, bar flow and service style in order to effectively display each roaster's unique approach to coffee. Launch parties and special events during each residence have included a basketball tournament, live musical performances, taco trucks, southern BBQ, a mariachi band, a latte art throwdown, a live podcast recording, home barista classes, coffee tastings, and an undisclosed amount of beer, wine and of course, coffee! We are honored to have had the level of involvement and talent that the roasters have displayed in bringing their residencies to life each month. The cafe team and guests have learned and discovered new approaches to coffee from each one and we'd like to once again extend our heartfelt thanks!
Looking ahead to year two, we are extremely excited to announce the roaster line up for the next 12 months. Receiving over 100 applications from roasters all over the world was incredibly humbling and we are extremely grateful to all who took the time to apply. Tasked with picking only 12, we based our selections on the quality of application, uniqueness of coffee program, coffee quality and diversity of residents style and location – all in an effort to showcase the breadth of specialty coffee experiences. So without further ado:
The Year Two Roasters in Residence to the La Marzocco Cafe are:
Toby's Estate Coffee, Brooklyn, NY: 5/2/17 – 6/5/17
Madcap Coffee, Grand Rapids, MI: 6/6/17 – 7/10/17
Four Barrel Coffee, San Francisco, CA: 7/11/17 – 8/7/17
Coffee Supreme, Wellington, NZ: 8/8/17 – 9/11/17
Olympia Coffee, Olympia, WA: 9/12/17 – 10/9/17
La Fontaine de Belleville, Paris, FR: 10/10/17 – 11/6/17
Quills Coffee, Louisville, KY: 11/7/17 – 12/4/17
Caffe Umbria, Seattle, WA: 12/5/17 – 1/8/18
Kickapoo Coffee, Milwaukee, WI: 1/9/18 – 2/5/18
Dutch Bros. Coffee, Grant's Pass, OR: 2/6/18 – 3/5/18
ONYX Coffee Lab, Springdale, AR: 3/6/18 – 4/2/18
George Howell Coffee, Acton, MA: 4/3/18 – 4/30/18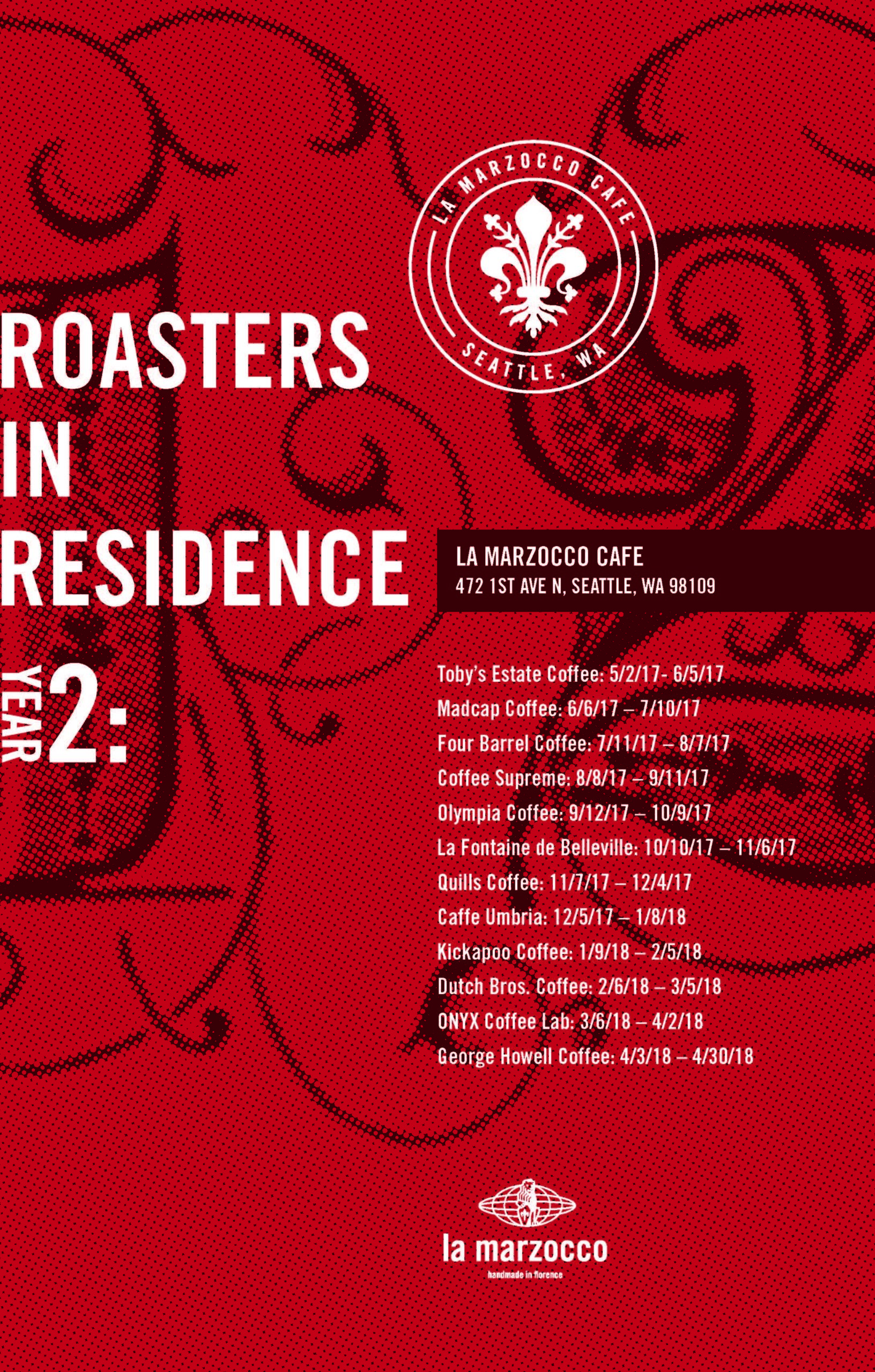 Congratulations roasters!
We are anticipating an incredible year two and can't wait to see what these 12 talented roasters will bring to the La Marzocco Cafe and the Seattle community. Also beginning today, La Marzocco Home is announcing the launch of their Home Espresso Subscription, the perfect way to be able to experience these roasters at home all year long! Head here for all the details.