In less than two weeks our team will be heading to New York City to participate in the inaugural New York Coffee Festival. September 25, 26, and 27 a collection of some of the finest coffee companies from around New York, the greater northeast region, and even from Europe will be assembling to celebrate all things specialty coffee at the 69th Regiment Armory.
The New York Coffee Festival is produced by Allegra Events, the same group that developed and launched the London Coffee Festival and the Amsterdam Coffee Festival. Both of these events have had great success in Europe and we're very excited to welcome this style of event to the US. Friday September 25th is geared toward trade attendees, while the 26th and 27th are open to the general public. Expect a fun, festival atmosphere with food, music, and, of course, coffee.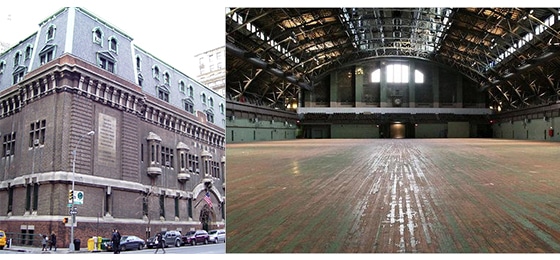 La Marzocco will be offering two unique experiences for attendees to check out.
La Marzocco Home
Have you seen the Linea Mini yet? If not, come by the La Marzocco booth for your chance to experience a kitchen-sized version of our most iconic espresso machine, the Linea Classic. Home baristas and professionals alike will have the opportunity to jump on a Linea Mini and make espresso for themselves.
If you have never made an espresso before, fear not, as our team will be there to guide you through the experience.
We'll have a small selection of coffee tools available for purchase. La Marzocco tampers, towels, and the new Acaia Lunar Scale will be available for purchase at the event. Quantities will be limited, so make sure to stop by early.
True Artisan Cafe
To crawl your way around all of New York and try coffees from every great roaster in the area would take days. Visit us at the True Artisan Café to experience a variety of the best that New York area coffee roasters have to offer. Each company will be serving drinks from their own, unique menu – designed just for the New York Coffee Festival. Espressos, cappuccinos, and some surprise signature beverages will be crafted by some of the most talented coffee professionals in New York.
Here is the True Artisan Café lineup:
Friday, September 25
2:00 PM – 4:30 PM
Brooklyn Roasting Company
Grade Coffee
Bluestone Lane
4:30 PM – 7:30 PM
Parlor Coffee
Third Rail Coffee
Plowshares
Saturday, September 26
9:00 AM – 12:30 PM
Stumptown Coffee Roasters
Tobys Estate Coffee
Counter Culture Coffee
12:30 PM – 4:00 PM
George Howell Coffee
Gotham Coffee Roasters
Sweetleaf LIC
4:00 PM – 7:30 PM
La Colombe
Variety
Blue Bottle Coffee
Sunday, September 27
9:00 AM – 1:00 PM
Gimme! Coffee
Ninth Street Espresso
Joe NYC
1:00 PM – 5:00 PM
Irving Farm
Coffee Labs
We look forward to seeing you in New York!