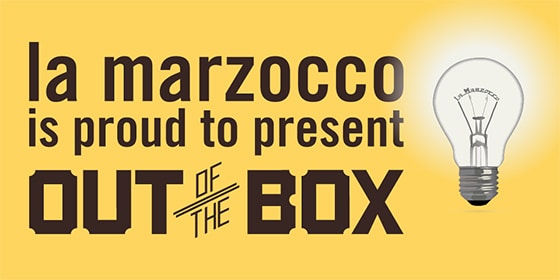 Out of the Box is the biennial La Marzocco event held in Milan that is intended to celebrate the specialty coffee community, and to bring people together to discuss emerging ideas in coffee. La Marzocco hosts Out of the Box October 23rd-24th. The event is open to all (registration is requested), and includes a lineup of speakers presenting on a range of topics. Speakers at Out of the Box 2015 will cover topics that include emerging trends in coffee, developing company culture, leadership, and design innovation. Exhibits will showcase La Marzocco products, projects including the Tanzania coffee farm Songwa, artists' work including an exhibit by renowned photographer Jakob de Boer, interactive displays, workshops, and much more. The event also includes plenty of fun and entertainment, concluding with a party on Saturday October 24th.
Out of the Box 2015 takes place October 23rd-24th at Magna Pars Suites Milano. We hope you will join us!
Out of the Box takes place to coincide with HOST, the world's largest hospitality tradeshow, also taking place in Milan. 2015 is also a special year because Milan is also host to the World's Fair, Expo, the six month exhibition that draws visitors from around the world, and takes place in a different city around the world once every four years. While visiting Milan, Out of the Box attendees can also experience Expo in its final weeks.
Learn more about Out of the Box, and register to attend at http://ootb.lamarzocco.com.
Following Out of the Box, the La Marzocco factory welcomes visitors on Monday October 26th in Florence. Out of the Box attendees interested in being a part of the factory tour on October 26th, contact our US team at info.usa@lamarzocco.com.
We hope to see you in Milan!