If your cafe has been temporarily closed for coronavirus containment, you have probably been eagerly awaiting the day you can reopen and welcome back staff and customers.
As you make plans to reopen, whenever that might be, take a moment to plan to safely and successfully power your espresso machine back on after closure.
These steps are best taken by a trained technician – if you need any help (or a recommendation on a local tech), please reach out to us at solutions.usa@lamarzocco.com or 206-706-9104 option 101.
Before You Open
Plan on performing this startup process several days to a week in advance of your opening to have plenty of time to deal with anything unexpected.
When you call your technician to schedule this appointment, consider incorporating a PM (preventative maintenance) procedure into the visit to keep your machine running in tip-top shape. A technician is the best person to restart your machine, as they can ensure a safe and thorough reactivation.
We also recommend contacting your water filtration supplier or service provider for instructions about proper flushing of filtration equipment, as these devices can require attention after sitting dormant for a while. While you're at it, this is a great time to change your cartridge and/or conduct a water test if you haven't done so recently.
Before you get started, thoroughly sanitize and disinfect all your equipment with appropriate agents (see our companion article about safe cleaning and disinfecting agents here.)
Remember: If you're at all concerned about the level of detail in these instructions, call a technician or our Solutions line (206-706-9104 x 101).
Step 1: Verify Drain Connection
– Ensure the drain tray and drain box of the machine are clean and free of debris.
– Ensure the drain hose is securely attached to the drain box, routed at sufficient slope to floor drain, and secured in place.
Step 2: Verify Water Supply
The following steps are written assuming boilers have not been drained. If boilers have been drained, your best move will be to work with a service technician or contact La Marzocco USA Solutions for instruction on bleeding groups and initial filling procedure.
– If water supply valve is not already shut off, do so now.
– Remove supply hose at pump inlet, turn water supply valve back on, and flush water line into a 5 gallon bucket for a duration of two minutes. Bucket should be nearly full unless filtration system isn't able to put out the required 2 gallons per minute to the machine pump.
– Turn water supply off, reattach supply hose at pump inlet, and turn water supply valve back on.
– For additional building water systems information see guidance from the CDC.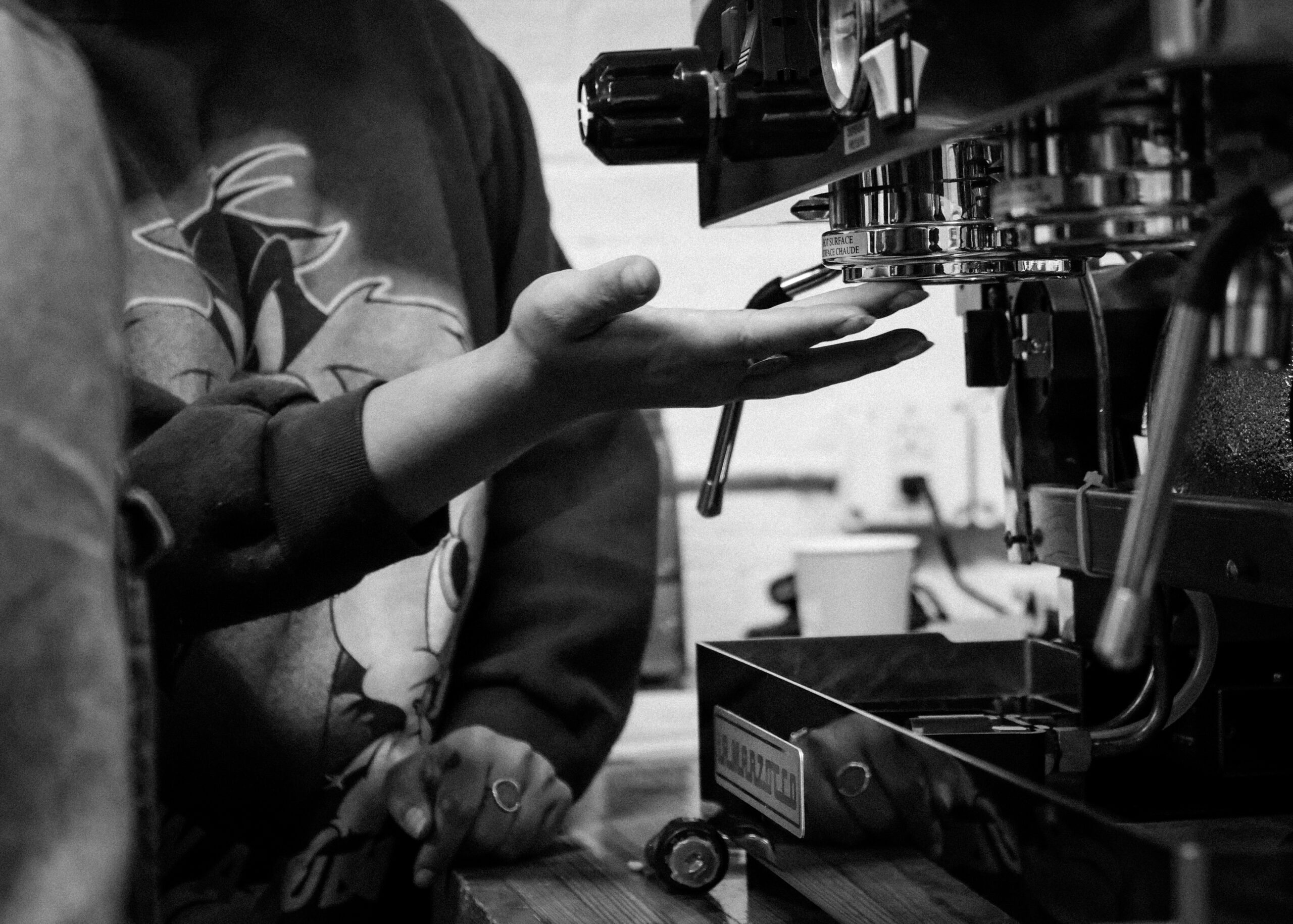 Step 3: Verify Electrical Supply
– Verify machine mains power is in OFF position and machine is unplugged.
– Verify circuit breaker has been turned on.
– Verify machine cable is now plugged securely into electrical receptacle.
Step 4: Turning the Machine On
– Turn machine on. You may or may not hear valves open or the pump activate, depending on the level of water in the steam boiler. (If machine has a position 1, do not proceed to position 2 until you have verified the boilers contain water. Group valves can be activated in position 1 to confirm water in coffee boiler. For machines with a sight glass, they should rest at approximate ¾ full position for LM machines, ½ for Modbar steam systems.)
– If machine has not sufficiently filled within five minutes, turn off and contact a service technician.
– Turn to position 2, if applicable, and machine will begin to heat.
– Remain near machine to monitor.
– Machine will be at operating temperature and pressure within 15-20 minutes.
– Steam gauge operational position will be between 1.25 and 1.5 on LM gear, 1.75 on Modbar steam systems.
– Coffee boiler gauge should not exceed 12 bar.
– Test proper operation of all groups and valves. Inspect for leaks.
– Refresh steam boiler via discharge cycle or by purging several cycles of tea spout.
– Run groups for approximately two minutes. Open steam valves for approximately two minutes.
– Clean and backflush machine as per nightly maintenance routine.
– Check flow rate for each group by measuring the output, without a portafilter, for 30 seconds to ensure they are similar. If there is a large variation between groups, you should consult your technician.
That's It!
You're ready to resume service. Our Solutions team is here for you if any questions come up along the way or if anything seems amiss. Call us at 206-706-9104 x 101.
Again, the best way to start your machine up after a closure is to bring in your service provider. Solutions can help recommend a local provider if you need one.