During the crisis created by COVID-19 for our industry, we teamed up with SCA to put on a six-part webinar series talking with specialty coffee colleagues who are innovating new ways to approach business during these challenging times. We hope that you will find some comfort and inspiration in hearing ideas from your friends in the coffee industry. Click through the webinar recordings below to experience them for yourself.
Webinar moderators are Peter Giuliano, Chief Research Officer for SCA and Scott Callender, VP of Marketing and Consumer Strategy for La Marzocco. 
Webinar 1: Survey Results and Key Learnings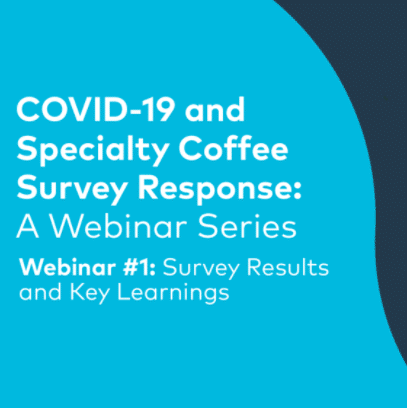 This webinar series grew from an industry survey carried out by SCA to hear feedback on how COVID-19 is affecting businesses throughout the specialty coffee value chain. In the first webinar, Heather Ward and Peter Giuliano go over the results of the survey and share insights from respondents, including suggestions for how businesses might best adapt to these changing circumstances. Some very powerful stats in here on what is really driving the impacts on our industry right now.
Key Takeaways 
– 886 people responded to the survey, of which 49% were retailers and 14.5% were roaster wholesalers — 36% of the total respondents were based in the US.
– Half of the respondents answered a question about the impact on their business; of those, 12% are "likely to go out of business" and 57% experience "significant negative impacts".
– Respondents provided input on particularly effective strategies – 5 of these strategies will be addressed in depth in the remaining webinars
Webinar 2: Pivoting to Online Sales: What Are Best Practices and Opportunities?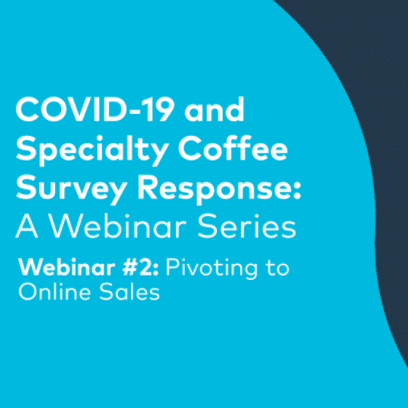 Featuring speakers Alex Hollywood, Partner Manager at Trustpilot; Martin Guerrero, Sales Enablement at Square; Heather Perry, Vice President at Klatch Coffee; and Colin Harmon, Owner of 3fe Coffee.
Key Takeaways
– Start small when going online – offer just one coffee and a brewing device
– Consider who you'll sell to and the logistics/costs of that decision – just your neighborhood or worldwide?
– Cropster and Shopify are offering special programs right now to companies looking to start ecommerce
Webinar 3: Walk-up and Takeaway Business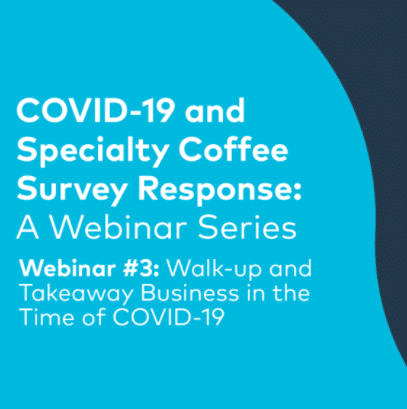 Featuring speakers Nick Cho of Wrecking Ball Coffee and Erica Escalante of Café Reina (formerly The Arrow).
Key Takeaways
– Advertising: A big banner emphasizing "contact free" service is a big draw for Wrecking Ball; The Arrow saw increased sales with a neighborhood-wide USPS mailer
– Consider the logistics and costs involved with offering delivery – a benefit for many customers but may require you to place large orders outside your normal inventory (cups, boxes, cutlery etc)
Webinar 4: The Importance of Communication During Business Interruptions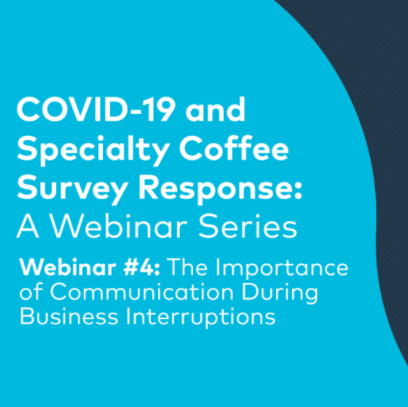 Featuring speakers Spencer Ross, Ph.D., who is Assistant Professor of Marketing (and specialty coffee enthusiast) at UMass Lowell's Manning School of Business, and Israel Serna whose experience in both the public and private sectors includes business development, sales, and marketing projects targeting Enterprise, Mid-Market and Small Businesses, Non-Profits, Specialty Coffee Industry, Latino and other multicultural communities.
Webinar 5: Coffee Delivery: How Does It Work?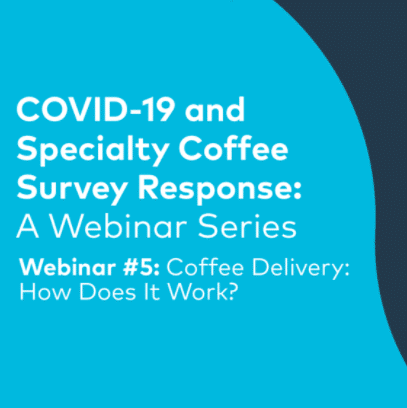 Featuring speakers Jeff Clinard and Sam Penix. Jeff Clinard is the founder and owner of Bear Coast Coffee, a Southern California Specialty Coffee Roaster. His background in marketing and entrepreneurship has been pivotal during this time of virus and economic uncertainty. Sam Penix is co-owner and CEO of Everyman Espresso. His passion for community has created magical cafes across the city of New York that combine high-quality beverages and physical spaces where neighbors form transformative connections.
Webinar 6: Getting Into Grocery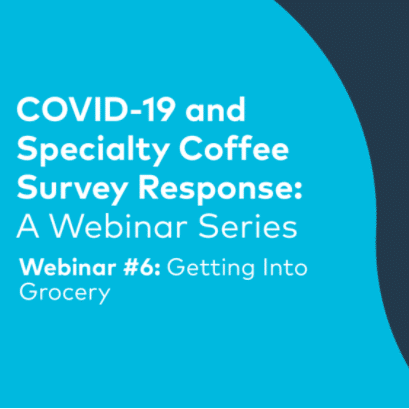 Featuring speakers Eileen Hassi Rinaldi, Owner, Ritual Coffee Roasters, and Kyle Glanville, Co-Founder and CEO of Go Get 'Em Tiger and G&B Coffee.