Today Stumptown Coffee Roasters opened a new café in Greenwich Village at 30 W 8th Street. The space is beautiful (it was recently profiled in the New York Times), and features two unique La Marzocco Strada MP espresso machines. The story of how these two machines, both of which have a distinctive Stumptown aesthetic, came to be goes back some time, and includes a strong vision, and great partners who helped make these machines a reality.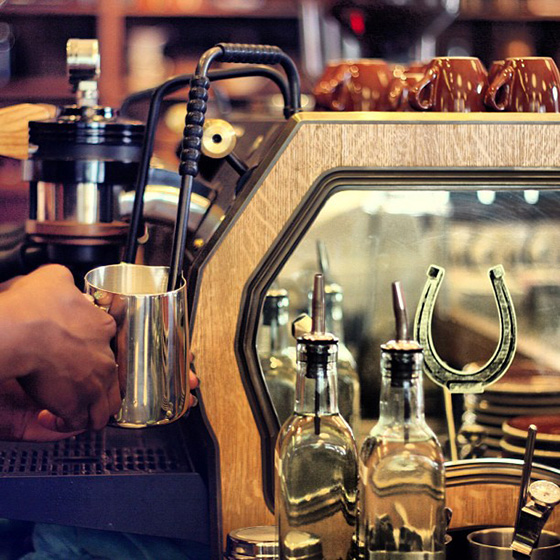 Over a year ago over a couple of beers in Portland, the team at Stumptown told us about a new project they were working on. The details were light, however they knew they wanted something special for a new café they would be opening the next year. Alex Lambert, Stumptown's head technician, was insistent that their new café's espresso machine be a Strada MP, however Stumptown founder Duane Sorenson wanted to have complete control over how the machine appeared on bar.
With the mutual goal of a completely custom Strada MP body without any internal modifications, together we decided to reach out to an old friend of the Stumptown crew and former La Marzocco engineer Jacob Ellul-Blake. During Jacob's time at La Marzocco, he helped design the Strada platform, making him a natural choice for someone to create a machine exactly as Duane envisioned. Over the course of several months, Jacob worked with Duane Sorenson, Lizz Hudson and Alex Lambert to refine their ideas. Alex sketched the basic shape of the machine from a tracing he took from the Strada MP Parts Catalog. Together Lizz and Duane assembled a pallet of materials, finishes and colors for Jacob to work with. Over the course of the next month Jacob painstakingly created digital drawings incorporating Alex, Lizz, and Duane's concepts. Jacob then worked to source the finish materials and create the new panels that would form the bodies of these unique machines.
After the panels were complete, we offered our shop (and a couple pizzas) to Jacob and Alex to use to assemble the machines. Over the course of a few hours, two Strada MPs with a distinctive Stumptown look came together on our bench.
Congratulations to the entire team at Stumptown, and especially Duane, Lizz, and Alex for their vision, and Jacob for his design.