It's been an incredible summer at the La Marzocco Café, and our friends at Counter Culture Coffee helped send summer off in the best way. They began by showing our guests Southern hospitality with a launch party full of North Carolina BBQ, beer and all the sides. The La Marzocco crew had a great time mingling with guests as well as the good people of Counter Culture.
From Q&A's to their "Tastings at 10" each week, Counter Culture brought the classroom to the cafe and both our staff and guests benefited by being able to taste coffees and hear what makes each of them special. Their weekly "Champ's Corner" has been an incredible opportunity for us to learn about the processing, varieties, and flavors of coffee, taught by some of specialty coffee's biggest Champs. We'd like to extend a huge thank-you to everyone at Counter Culture who worked so hard to make this residency a success!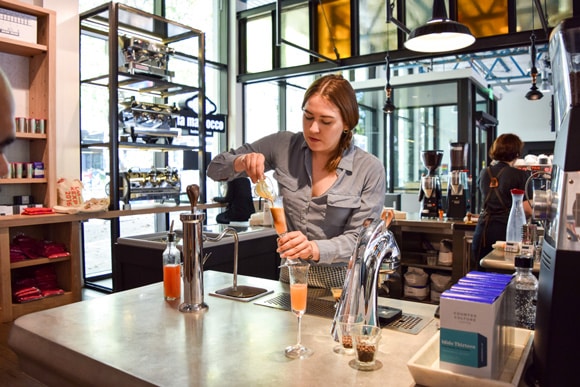 Next up, we have the privilege of hosting Intelligentsia Coffee and Tea, a company La Marzocco has been working with since they began more than 20 years ago, as our next Roaster in Residence! For the month of October, guests will be able to taste Intelligentsia's coffees and teas and experience their impeccable service.
Intelligentsia began in 1995 as an in-store coffee roaster-retailer in Chicago's Lakeview neighborhood, operating with just a 12-kilogram roaster. Over the past 21 years they have grown from their original shop to now having 10 unique coffeebars in Chicago, Los Angeles and New York City, three roasting works with over 600 wholesale accounts, and training labs in New York and Atlanta.
Direct Trade has become somewhat of a specialty coffee industry standard, and Intelligentsia was truly a pioneer of this movement. Cumulatively, their buyers spend 365+ days a year working alongside farmers in origin countries. Many of the coffees Intelligentsia procures are exclusive to Intelligentsia. Intelligentsia pays its coffee-producing partners higher prices than prices regulated by Fair Trade standards, with the goal of improving farmers' lives; improving infrastructure and quality-of-life in coffee-producing communities; and improving growing and production practices to yield higher-quality coffee. All of this work and investment is reflected in every cup enjoyed by the consumer.
While at the La Marzocco Cafe, Intelligentsia will be hosting a party celebrating their 21st birthday. Details will follow, but we hear there are plans for a cocktail competition, pizza and beer! Each week a special guest from Intelligentsia will be teaching classes on their practices, and on coffee and tea. The menu will include an extensive tea program from Intelligentsia's team company, Kilogram Tea. Make sure to follow along on the cafe's Instagram and Twitter as we'll be posting more information about these events throughout Intelligentsia's residency.
Again, we want to thank Counter Culture for a super month and for all the effort that went into making their residency a great one. To close their residency, current US Barista Champion and Counter Culture mainstay, Lem Butler will be serving his specialty drink in the Champ's Corner. The full Counter Culture menu will be available through September 26th.