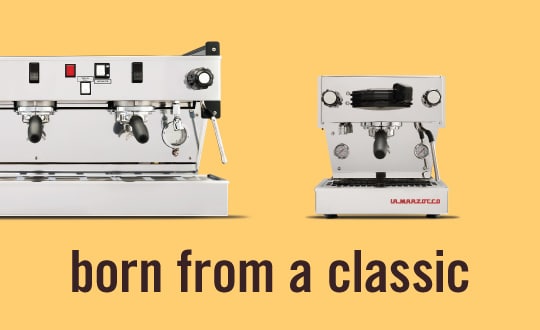 Since the launch of La Marzocco Home in November 2014, we've seen an incredible response to the idea of creating café-quality espresso drinks at home. Today, we are excited to announce the newest addition to the La Marzocco Home line up: the La Marzocco Linea Mini.

The design of the Linea Mini is based on the iconic La Marzocco Linea Classic. Loved by thousands of professional baristas, the Linea Classic truly helped launch the specialty coffee movement of the early 1990s, and inspire the third wave coffee movement in the early 2000s. It continues to be one of our best-selling commercial espresso machines, and is familiar to coffee professionals and coffee enthusiasts around the world. With the Linea Mini, we hope to help espresso enthusiasts create an espresso revolution in their own kitchens.
All of the details of this new addition can be found over at La Marzocco Home, where, beginning today, US customers may preorder the Linea Mini. Deliveries will begin in late spring.
The Linea Mini will be on display in the La Marzocco Home Experience at SCAA Expo in Seattle April 9 – 12. Be sure to come by and pull a shot on the newest La Marzocco espresso machine—we can't wait to share it with you!